Earth Day is April 22, and there is no better time to remind BC Liquor Store customers of our commitment to supporting the environment.
BC Liquor Stores recycle. Every year, we recycle more than 3,117 tonnes of cardboard, paper and soft plastic; equivalent to the weight of 22 blue whales.
BC Liquor Stores believe in responsible container recycling. Every year, our customers return around 93 million empty beverage alcohol containers for recycling.
BC Liquor Stores is power smart. High efficiency LED lighting is standard for all new and remodeled stores.
BC Liquor Stores is carbon neutral. We have invested in 24, 873 tonnes of BC carbon offset since 2010 – equivalent to a passenger vehicle driving around the earth 2,448 times!
BC Liquor Stores' paper bags are 97% post-consumer recycled content and our new plastic bags are made in BC from 20% recycled bottles.
 
Image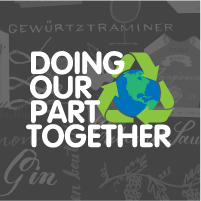 external link paragraph