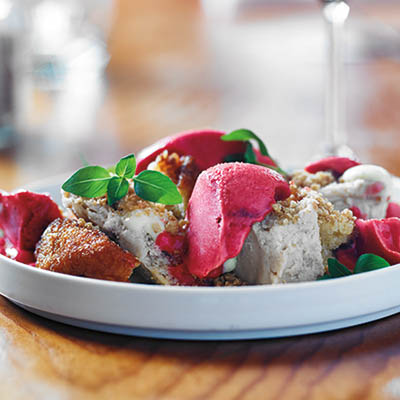 PB & J CHEESECAKE AND SORBET
Ingredients
Serves 16
3½ sheets silver strength gelatin
2 lbs (1 kg) raspberries, puréed, strained
½ cup (125 ml) glucose or clear corn syrup
⅔ cup (150 ml) granulated sugar
¼ cup (60 ml) granulated sugar
⅓ cup (75 ml) brown sugar
1¾ cups (425 ml) all-purpose flour
⅔ cup (150 ml) butter, at room temperature
1 cup (250 ml) peanuts, toasted and chopped
PEANUT BUTTER CHEESECAKE:
6 cups (1.5 L) plain cream cheese
1 cup (250 ml) granulated sugar
1 cup (250 ml) smooth peanut butter
3 cups (750 ml) crème fraîche
3½ cups (875 ml) granulated sugar, divided
½ cup (125 ml) granulated sugar
¼ standard loaf sliced white bread, crusts removed
2 cups (500 ml) each whole milk and whipping cream
¾ cup (175 ml) granulated sugar
Thai basil leaves, for garnish
Instructions
To make RASPBERRY SORBET: Place gelatin in a large bowl with plenty of ice water to soak for 5 to 10 minutes. In a blender, combine raspberry purée, glucose, sugar and salt. Whirl to blend. Place half purée in a medium-sized saucepan.
Remove gelatin from water and squeeze with hands to remove water. Add to saucepan with purée and warm, stirring constantly until all gelatin has dissolved. Remove from heat and add to remaining purée in blender. Whirl briefly then transfer to an ice cream maker and freeze according to manufacturer's instructions.
To make PEANUT CRUMBLE: Preheat oven to 275 F (140 C). Combine sugars and flour in a bowl. Stir to blend. Add butter and work in until mixture resembles small pebbles or coarse sand. Fold in granola and transfer mixture into an 8 cup (2 L) baking dish with 2-in (2.5 cm) sides. Bake in centre of oven for 40 minutes until golden brown. Stir often as it starts to turn golden. Crumble should be rich golden brown and crisp. Cool pan on a rack. If some crumbles are too large, pulse in a food processor. Fold in peanuts and store cooled crumble in a tightly sealed container at room temperature. Can be stored for up to a week.
To make PEANUT BUTTER CHEESECAKE: Preheat oven to 250 F (130 C). Grease a 12 x 10 x 1.5-in (30 x 25 x 3.5 cm) baking dish and line with parchment paper. Set aside.
In electric stand mixer fitted with paddle attachment, beat cream cheese until smooth and creamy. Beat in sugar and peanut butter and continue beating until blended. Beat in crème fraîche and eggs until blended and smooth. Transfer into prepared baking dish, smoothing top. Bake in oven for 30 to 40 minutes or until cake is firm but still has a slight jiggle when shaken. Remove dish to a rack to cool. Then, cover with plastic wrap and refrigerate. Can be refrigerated for several days.
To make TORN DONUT: Combine 3 cups (750 ml) each sugar and water in a heavy-bottomed saucepan. Bring to a gentle boil and stir to dissolve. Remove from heat and set aside to cool.
Whisk remaining ½ cup (125 ml) sugar and eggs together in a large bowl until blended and sugar is dissolved. Tear bread with crusts removed into golf ball-sized pieces. Soak in egg mixture then drain in a colander.
Fill a large heavy-bottomed saucepan with about 5-in (12 cm) oil making sure it's at least 5-in (12 cm) from top of saucepan. Heat oil to 350 F (180 C). Then reduce heat to medium-low to maintain temperature. Fry soaked bread in small batches in hot oil, turning a few times with slotted spoon for even browning. Bread will expand in saucepan as it cooks so don't add too many pieces at once. When bread is golden on all sides, 2 to 3 minutes, remove with slotted spoon and drop into sugar syrup for a minute, turning to coat. Remove from syrup, drain on a rack over a baking sheet. Return oil temperature to 350 F (180 C) before frying another batch.
To make CRÈME ANGLAISE: Combine milk and cream in a medium-sized, heavybottom saucepan. Split vanilla bean in half and scrape out seeds. Stir seeds into milk. Gently heat milk over medium-low until simmering. Remove from heat and set aside.
Whisk sugar and eggs in a bowl until blended. Gradually whisk a little hot milk mixture into egg mixture to slightly warm. Then slowly whisk egg mixture into warmed milk until blended. Return saucepan to medium heat and cook, stirring constantly with a wooden spoon until a thickened custard is formed, 5 minutes. Do not let mixture boil. Anglaise is ready when thick enough to coat a spoon. Strain Anglaise into a bowl and cool before transferring to a container with a tight-fitting lid and refrigerating. Whisk before serving.
To serve Peanut Butter Cheesecake, spoon a few generous spoons Crème Anglaise onto bottom of a shallow serving dish. Spoon scoops of peanut butter cheesecake over anglaise. Tear Torn Donuts into chunks and add to top. Sprinkle with Peanut Crumble and a few scoops of Raspberry Sorbet. Top with a little more Anglaise and garnish with Thai basil leaves.
Drink Pairings