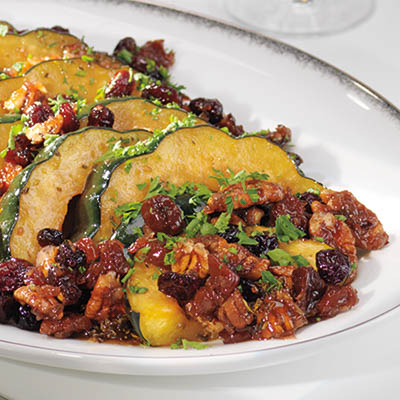 ACORN SQUASH WITH CHERRY AND PECAN CHUTNEY
Ingredients
Serves 8
CHERRY AND PECAN CHUTNEY:
2 tbsp (30 ml) grapeseed oil
2 shallots, peeled and diced
2 cups (500 ml) dried tart cherries
½ cup (125 ml) dry white wine
1 tbsp (15 ml) maple syrup
pinch each, ground nutmeg, ground
cinnamon and crushed red pepper flakes
1 cup (250 ml) pecans halves, roughly chopped
2 cups (500 ml) apple cider
½ cup (125 ml) unsalted butter
2 tsp (10 ml) fresh rosemary leaves, minced
2 tsp (10 ml) thyme leaves, minced
1 tbsp (15 ml) sage leaves, chopped
2 large acorn squash, cut in half and seeded
salt and pepper, to taste
2 tbsp (30 ml) chopped parsley, for garnish
Instructions
To make CHERRY AND PECAN CHUTNEY: In a medium saucepan, warm oil over medium heat. Add shallots and cook, stirring often, until translucent, about 4 minutes. Stir in garlic and let cook another minute. Add cherries, wine, maple syrup and seasonings. Increase heat to medium-high. Bring mixture to a boil, reduce heat to medium-low and simmer, uncovered, stirring often, until thickened and slightly sticky, about 10 minutes. Stir in pecans. Transfer chutney to a bowl and cool to room temperature. Chutney may be kept refrigerated in an airtight container for 4 days.
To make ROASTED ACORN SQUASH: Preheat oven to 375 F (190 C).
In a small saucepan, reduce apple cider over high heat to a ¼ cup (60 ml). Reduce heat to medium-low and stir in butter, rosemary, thyme and sage. Once butter has melted, continue to simmer for another 2 minutes, stirring occasionally. Set aside, keeping warm.
Slice acorn squash into ¾-in (2 cm) half-moons. Place in a single layer on a parchment-lined baking sheet. Brush with half the apple cider mixture and season lightly with salt and pepper. Bake for 15 minutes, brush squash with remaining apple cider mixture and continue to bake for another 10 to 15 minutes, until squash is soft.
Transfer warm squash to a serving platter, top with chutney and garnish with a sprinkle of parsley. Serve immediately while squash is still warm.
Drink Pairings