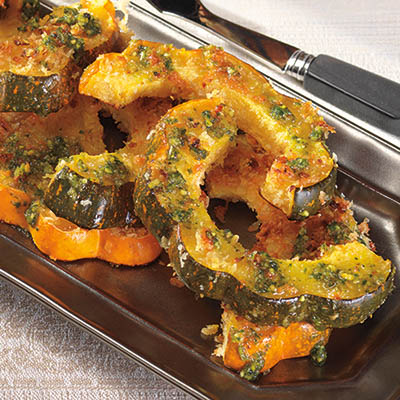 ACORN SQUASH WITH KALE PESTO
Ingredients
Serves 8
¼ cup (60 ml) natural almonds
¾ cup (175 ml) firmly packed arugula
½ cup (125 ml) lightly packed fresh parsley
1 cup (250 ml) firmly packed, chopped kale
1 tbsp (15 ml) each fresh thyme and oregano
1 tbsp (15 ml) lemon juice
3 garlic cloves, minced, divided
¾ cup (175 ml) grated Parmesan, divided
¾ cup+1 tbsp (190 ml) extra-virgin olive oil, divided
salt and pepper, to taste
⅓ cup (75 ml) panko bread crumbs
Instructions
Preheat oven to 350 F (180 C). Place pistachios and almonds on a baking sheet and toast in oven until fragrant, 8 minutes. Set aside to cool.
Increase oven heat to 400F (200C). Add cooled nuts to a food processor and process until broken into small pieces. Add arugula, parsley, kale, thyme and oregano and continue to process, pulsing until it begins to break down. Add lemon juice and zest, 1 minced garlic clove and 1⁄2 cup (125 ml) Parmesan. Process until well combined and a chunky paste forms. With food processor running, add 3⁄4 cup (175 ml) oil in a thin stream until incorporated. Season to taste with salt and pepper. Set half the pesto aside and store remaining for another use.
Halve the squash, scoop seeds out and discard. Cut squash halves crosswise into 3⁄4-in (2 cm) slices.
In a large bowl, toss together squash with remaining 2 minced garlic cloves, 1⁄4 cup (60 ml) Parmesan, 1 tbsp (15 ml) oil and panko bread crumbs. Lay squash in a single layer on 2 parchment-lined baking trays and season lightly with salt and pepper. Bake until golden brown and tender, 30 minutes. Once cooked, generously brush squash with half the reserved pesto before transferring to a serving plate. Serve warm.
Drink Pairings