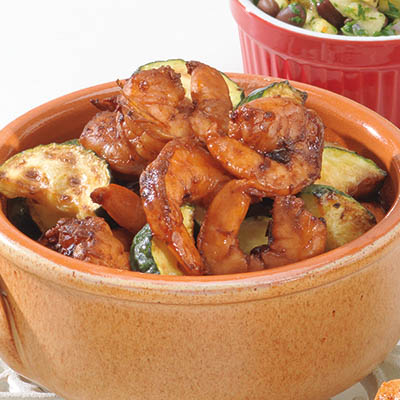 ADOBO SHRIMP WITH ZUCCHINI
Ingredients
Serves filling for about 12 tacos
6 dried Ancho chilies, stems removed
½ cup (125 ml) boiling water
¼ cup (60 ml) apple cider vinegar
2 tsp (10 ml) kosher salt, plus extra
½ tsp (2 ml) dried Mexican oregano
½ tsp (2 ml) ground cumin seed
½ tsp (2 ml) coconut sugar
2 lbs (1 kg) small or medium uncooked shrimp, peeled and deveined
1 tbsp (15 ml) coconut oil
1 large zucchini, cut into ¼-in (0.5 cm) wide half moons
ground black pepper, to taste
Instructions
Heat a dry frying pan or cast-iron skillet over medium-high heat. Add chilies and toast, turning often, until just fragrant and softened, about 1 minute. Remove to a plate and let cool. Using scissors and working over a medium bowl, cut toasted chilies into 1-in (2.5 cm) rings, reserving seeds. Cover chilies with water and set aside to soak, stirring occasionally, for 10 minutes.
Transfer hydrated chilies along with soaking liquid to jar of a blender. Add garlic, vinegar, salt, oregano, cumin, and sugar and purée until a smooth, thick paste forms. Transfer adobo paste to a large bowl before adding shrimp and stirring to coat.
Preheat broiler. Line a rimmed baking sheet with foil.
Place shrimp on prepared baking sheet in an even layer. Broil, watching closely and stirring halfway through, until shrimp are just cooked through and browned in spots, about 4 to 5 minutes.
While shrimp is cooking, heat coconut oil in a large frying pan over medium-high heat. Add zucchini and sauté until softened and starting to brown in spots, about 4 to 6 minutes. Season with a pinch of salt.
Fold zucchini into cooked shrimp to coat lightly in sauce. Season to taste with salt and pepper. Serve while warm.
Drink Pairings