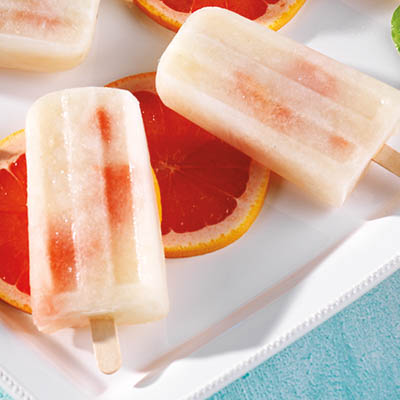 ADULT GRAPEFRUIT, BASIL AND VODKA POPSICLES
Ingredients
Serves 10 popsicles
1 cup (250 ml) granulated sugar
6 large basil leaves, plus extra
½ vanilla bean, split in half
1½ cups (375 ml) white grapefruit juice
¼ cup (60 ml) vodka (or substitute additional white grapefruit juice)
Instructions
In a medium saucepan over medium-high heat, stir together sugar and water. Simmer until all the sugar has dissolved. Remove saucepan from heat and stir in 6 basil leaves and vanilla bean. Set aside until cooled at room temperature.
While simple syrup is cooling, cut away rind and white membrane from outside of each grapefruit. Working with 1 grapefruit at a time, cut out segments between white pith so that you are left with a grapefruit segment free from any pith. Once both grapefruits have been broken down into segments, cut each segment into 3 or 4 pieces.
Strain basil-vanilla simple syrup into a pitcher and discard remaining solids. Julienne another 2 or 3 basil leaves, if desired, and stir into syrup along with white grapefruit juice and vodka until well combined.
Fill popsicle moulds ¾ full with grapefruit juice mixture. Add a couple of grapefruit pieces to each mould, pushing down to submerge them. Freeze popsicles for about 45 minutes before adding popsicle sticks. Freeze until frozen solid, about 6 to 8 hours. Unmould popsicles and enjoy.
Drink Pairings