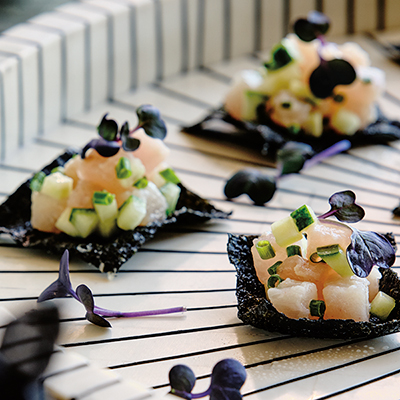 Albacore Tuna Tartare on Nori Chips
Ingredients
Serves 8
6 tbsp (90 ml) cornstarch
½ lb (8 oz) sushi-grade albacore tuna, diced
½ cup (125 ml) finely diced cucumber
1 tbsp (15 ml) mayonnaise
½ tsp (2.5 ml) lemon zest
½ tsp (2.5 ml) sriracha (optional)
1 tbsp (15 ml) finely chopped chives
freshly ground black pepper, to taste
Instructions
Pour 1-in (2.5 cm) oil in a large heavy-bottomed saucepan or enameled cast iron casserole. Using a frying thermometer, heat oil to 350 F (180 C). Line a baking sheet with paper towel and set aside.
Using scissors, cut each nori sheet into roughly 3-in (8 cm) squares. Set aside.
In a medium bowl, whisk together water and cornstarch. One at a time, dip nori pieces into cornstarch mixture (whisk occasionally if cornstarch starts to settle on bottom of bowl) and immediately transfer nori to hot oil, frying about 3 to 4 pieces at a time for 10 to 15 seconds. Be careful, as oil may splatter. Take care not to fry too many sheets of nori at a time or they may stick together. Using tongs, flip nori and continue to fry until oil is still and no longer bubbling, about 10 more seconds. With tongs, carefully transfer nori chips to lined baking sheet. Season with salt immediately. Repeat with remaining nori, then set aside.
In a medium bowl, stir together tuna, cucumber, mayonnaise, lemon juice and zest, sriracha and chives until well combined. Season to taste with salt and pepper.
When ready to serve, top each nori chip with a spoonful of tuna tartare. Garnish with microgreens and place on a serving platter. Enjoy immediately.
Drink Pairings