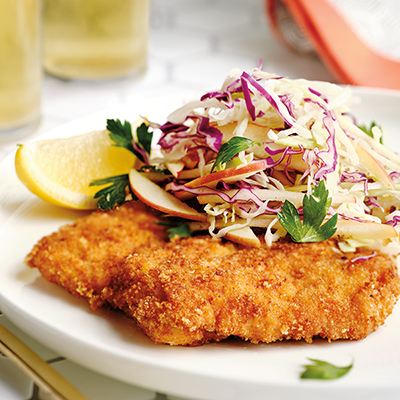 ALMOND-CRUSTED SCHNITZEL WITH APPLE SLAW
Ingredients
Serves 4
2 cups (500 ml) finely shredded red cabbage
2 cups (500 ml) finely shredded green cabbage
1 tsp (5 ml) apple cider vinegar
1 tsp (5 ml) Dijon mustard
salt and pepper, to taste
4 chicken breasts, butterflied (A way of preparing meat by carefully slicing in half, lengthwise, but keeping attached along one side)
1 cup (250 ml) grated parmesan
3 cups (750 ml) fried pork rinds
1 cup (250 ml) almond meal
1 tsp (5 ml) baking powder
3 cups (750 ml) sunflower oil
1 lemon, cut into 4 wedges
¼ cup (60 ml) chopped parsley leaves
Instructions
In a large bowl, combine cabbage and apple.
In a small bowl, mix together honey, vinegar, Dijon and olive oil. Season with salt and pepper, pour over cabbage mixture and toss to coat. Chill until ready to serve.
On a cutting board, place each chicken breast between 2 layers of cling wrap. Using a meat mallet or rolling pin, pound cutlets until about ½-in (1.25 cm) thick and as even as possible.
In bowl of a food processor, pulse pork rinds until finely ground, or place in a plastic freezer bag and pound with meat mallet or rolling pin until finely ground.
In a shallow bowl, whisk together parmesan, ground pork rinds, almond meal and baking powder. In another shallow bowl, briefly beat eggs.
In a large cast iron pan, heat oil to 330 F (165 C).
Dip a chicken breast into egg mixture, coating all sides. Then dip into "crumb" mixture, again ensuring thorough coating. Shake off any excess and gently lower into hot oil. Cook for 3 to 4 minutes per side, or until internal temperature reaches 165 F (74 C). Remove to a cooling rack and immediately season with salt. Repeat with remaining chicken breasts.
Plate chicken with cabbage slaw on top and garnish with lemon wedges and parsley.
Drink Pairings