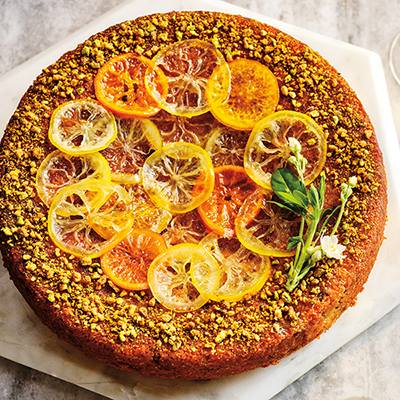 ALMOND, SEMOLINA AND PISTACHIO CAKE WITH LEMON AND GRAPEFRUIT SYRUP
Ingredients
Serves 1 x 10 in (25 cm) cake
Candied Citrus Slices, for garnish, recipe follows (optional)
1¼ cups (310 ml) salted butter, room temperature, plus extra for greasing
1½ cups (375 ml) almond flour
¾ cup (175 ml) finely ground toasted pistachios, plus extra for garnish
¾ cup (175 ml) semolina flour
1½ tsp (7 ml) baking powder
1½ cups (375 ml) + ⅔ cup (150 ml) granulated sugar, divided
1½ tsp (7 ml) + 1 tbsp (15 ml) finely grated lemon zest, divided
1 tsp (5 ml) vanilla extract
3 tbsp (45 ml) + ⅓ cup (75 ml) freshly squeezed lemon juice, divided
⅓ cup (75 ml) freshly squeezed grapefruit juice
Instructions
Prepare Candied Citrus Slices, if using.
Preheat oven to 350 F (180 C). Line bottom of a 10-in (25 cm) round cake pan with parchment paper and generously butter sides of pan. Set aside.
In a medium bowl, combine almond flour, ground pistachios, semolina flour and baking powder. Set dry ingredients aside.
In bowl of a stand mixer, or using a hand-held mixer, beat 1¼ cups (310 ml) butter, 1½ cups (375 ml) sugar and 1½ tsp (7 ml) lemon zest until very light and fluffy, about 5 minutes. Gradually add eggs and vanilla and beat until glossy, about 2 minutes. Add dry ingredients and 3 tbsp (45 ml) lemon juice and beat to combine, about 2 minutes, scraping down sides of bowl from time to time. Transfer batter to prepared pan and bake until golden brown, 45 to 50 minutes. Lightly press top of cake to test: it should be springy to touch when done.
While cake is baking, prepare syrup. In a small saucepan over medium heat, combine remaining 1 tbsp (15 ml) lemon zest, ⅓ cup (75 ml) lemon juice, ⅔ cup (150 ml) sugar and grapefruit juice. Bring to a boil, stirring, then lower heat and simmer for 5 to 7 minutes, until syrup has reduced by about ⅓. Remove from heat.
As soon as cake comes out of oven, spoon and brush syrup liberally over top and edges of cake. Allow syrup to drip down sides of pan. Cool cake completely before turning out. Garnish cake with crushed toasted pistachios and Candied Citrus Slices, if using, reserving any remaining syrup and citrus slices for use in cocktails, baking or salads. Cake will keep, covered, in refrigerator for up to 5 days.
Drink Pairings