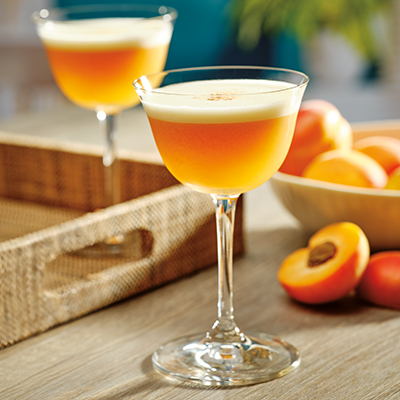 AMARETTO & APRICOT BRANDY SOUR
Ingredients
Serves
1½ oz (45 ml) St. Rémy XO Brandy
1 oz (30 ml) Disaronno Amaretto
1 tbsp (15 ml) Apricot Jam *
freshly grated nutmeg, for garnish
* APRICOT JAM (or store bought):
2 cups (500 ml) apricots, peeled, pitted and crushed
In a saucepan, combine all ingredients. Slowly bring to a boil, stirring until sugar dissolves. Cook over medium-high heat, stirring continuously, until mixture thickens, about 25 minutes. Remove from heat and skim off any foam, if necessary. Ladle jam into a sterilized glass jar with a lid and store in refrigerator for up to 3 weeks.
Instructions
In a cocktail shaker, combine all ingredients. Fill shaker with ice and shake vigorously until well chilled. Strain through a fine mesh strainer into a coupe or sour glass and garnish with freshly grated nutmeg.
Featuring