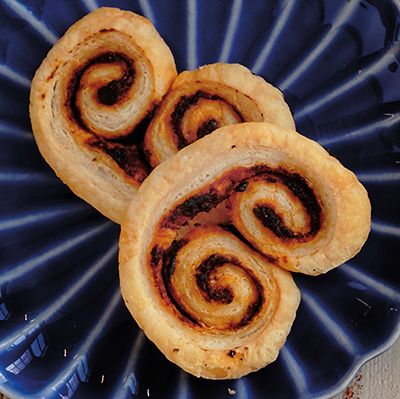 Ingredients
Serves 24
2 tbsp (30 ml) unsalted butter, softened
2 tbsp (30 ml) tomato paste
1 tbsp (15 ml) anchovy paste
1 large garlic clove, grated
2 tsp (10 ml) lemon juice
¼ tsp (1 ml) ground pepper
1 x 14 oz (396 g) package frozen puff pastry, defrosted according to package instructions
Instructions
Preheat oven to 350 F (180 C) and line a large baking sheet with parchment paper.
In a bowl, combine butter, tomato paste, anchovy paste, garlic, lemon zest and juice, sugar, pepper and Tabasco.
Roll out puff pastry to a 9½-in x 15-in (24 x 38 cm) rectangle. Spread anchovy mixture evenly over puff pastry, making sure to reach all the way to edges.
Tightly roll bottom of pastry toward the middle, stopping at centre. Then, roll top of pastry down to meet in centre. Place pastry roll in refrigerator for 1 hour, or freezer for 20 minutes, to firm it up.
Slice roll into ½-in (1.25 cm) rounds and arrange on lined baking sheet. Transfer pan to refrigerator for 10 minutes, or freezer for 5 minutes, to firm up pastry again.
Bake palmiers for 20 minutes, or until golden brown and cooked through, rotating pan after 10 minutes. Transfer palmiers to a wire rack and allow to cool. Will keep for up to 3 days in an airtight container at room temperature.
Drink Pairings