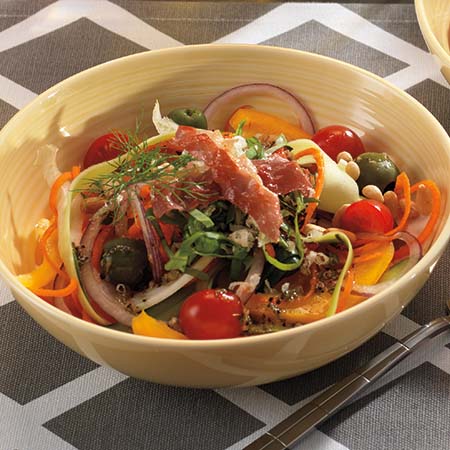 ANTIPASTO VEGETABLE NOODLE SALAD
Ingredients
Serves 6
2 thick carrots, trimmed and peeled
2 zucchini, about 8-in (20 cm) long, trimmed
1 small fennel bulb, trimmed, reserve the fronds
½ small red onion, peeled
1 cup (250 ml) halved, small heirloom
1 yellow bell pepper, seeded and cut into thin julienne strips
1 tbsp + 3 tbsp (60 ml) extra-virgin olive oil, divided
1 tbsp (15 ml) lemon juice
1 small smashed and minced garlic
2 tsp (10 ml) minced fresh oregano
salt and freshly ground black pepper, to taste
½ cup (125 ml) small, green, pitted olives
2 tbsp (30 ml) pine nuts, toasted
3 tbsp (45 ml) finely grated Parmesan
2 tbsp (30 ml) slivered fresh basil leaves
Instructions
Using a hand-held vegetable peeler, or a vegetable spiralizer, shave carrots and zucchini into long thin strips or spiralized curls and place in a large bowl. Very finely dice any remaining vegetable cores and add to bowl.
Thinly slice fennel and red onion using a mandolin, separate into rings and add to vegetables along with cherry tomatoes and julienne strips of yellow pepper.
Heat 1 tbsp (15 ml) oil in large frying pan. As soon as it almost begins to smoke, add prosciutto and gently fry over medium heat until crispy. Transfer to a paper towellined plate to drain. When cool enough to handle, crumble into bite-sized pieces.
In a small bowl, combine remaining 3 tbsp (45 ml) oil, lemon juice and garlic. Whisk together to blend. Whisk in minced oregano until blended. Add salt and pepper to taste. Add sugar, if desired.
When ready to serve salad, give olive oil dressing a quick whisk and drizzle over vegetables. Gently toss to evenly coat. Note: Do not toss salad with dressing until immediately before serving, or salad will water out. Divide among serving plates and scatter with olives, pine nuts, Parmesan and basil. Place a couple of pieces prosciutto on top and serve.
Drink Pairings