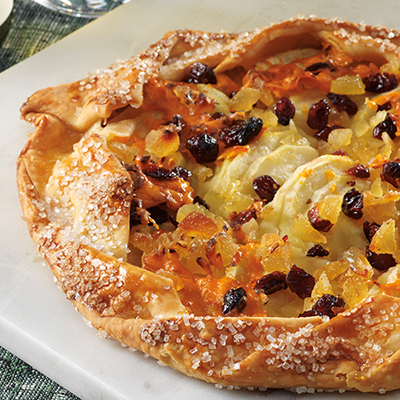 APPLE AND CHEDDAR CROSTATA
Ingredients
Serves 6 to 8
1½ cups (375 ml) all-purpose flour
1½ tsp + ¼ cup (7.5 ml + 60 ml) granulated sugar, divided
¾ cup (175 ml) chilled unsalted butter, cut into ½-in (1.25 cm) pieces
1 tbsp (15 ml) ice water, plus extra
1½ lbs (750 g) Fuji or Granny Smith apples, about 3 large, peeled, cored, cut into ¼-in (0.5 cm) thick slices
¼ tsp (1 ml) ground ginger
¼ cup (60 ml) finely chopped candied ginger
¼ cup (60 ml) dried cranberries
1 tbsp (15 ml) unsalted butter, cut into small pieces
¾ cup (175 ml) grated sharp cheddar
1 large egg, beaten with 1 tsp (5 ml) water
coarse sugar, for garnishing
Instructions
In a bowl of a food processor, add flour, 1½ tsp (7.5 ml) sugar and salt. Cut in ¾ cup (175 ml) chilled butter, pulsing until mixture resembles coarse meal. In a small bowl, whisk egg yolk and 1 tbsp (15 ml) ice water to blend and add to food processor. Pulse until dough clumps together. Add more ice water 1 tsp (5 ml) at a time if dough is dry, just enough to form a ball. Flatten to round disc, wrap in plastic wrap and chill, at least 1 hour.
In a bowl, toss apple slices with ¼ cup (60 ml) sugar, cinnamon and ground ginger. Set aside.
Preheat oven to 400 F (200 C).
Roll out dough on a lightly floured surface to 14-in (35 cm) round. Gently move rolled out dough to a parchment-lined baking sheet. Start from 2-in (5 cm) from perimeter of pastry round, arrange apple slices side by side, in a circular pattern, filling circle, overlapping if necessary. Sprinkle top of apples with candied ginger and cranberries. Spread the remaining 1 tbsp (15 ml) butter pieces over filling. Sprinkle with cheddar and gently fold dough over apple mixture, forming pleats every few inches. Brush egg wash over exposed border of dough and sprinkle with coarse sugar.
Place crostata in preheated oven and bake for 10 to 15 minutes, until it starts to brown, then reduce heat to 375 F (190 C) and bake for 15 to 20 minutes more, until apples are cooked through and crust is nicely browned. Cool slightly before serving.
Drink Pairings