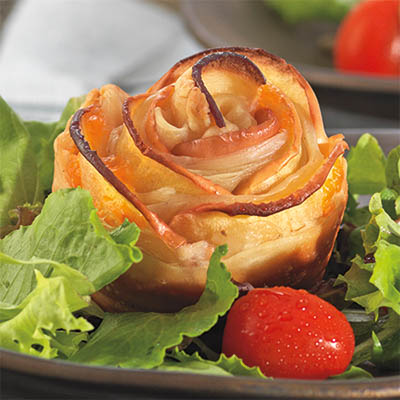 APPLE AND CHEESE ROSE TARTLETS
Ingredients
Serves 4
2 red unpeeled apples, halved, cored and thinly sliced
2 tbsp (30 ml) lemon juice
1 sheet, frozen puff pastry, thawed
all-purpose flour, for rolling pastry
½ cup (125 g) plain cream cheese, softened
4 tbsp (60 ml) granulated sugar
½ cup (125 ml) grated sharp cheddar cheese (optional)
Instructions
Preheat oven to 375 F (190 C). Generously grease a muffin tin with butter or cooking spray. Set aside.
Place apple slices in a bowl. Top with lemon juice and water. Microwave 3 minutes or until apples are slightly softened. Remove apples and pat dry on paper towel. Set aside.
Lightly dust counter surface with flour. Roll out puff pastry and cut into 4 even-sized strips lengthwise, about 3-in (7.5 cm) wide. Spread a thin layer of cream cheese over pastry. Mix together sugar and cinnamon in a small bowl and sprinkle about a tsp (5 ml) over the cream cheese. Sprinkle a bit of cheddar cheese over each strip.
Arrange apple slices, overlapping pieces over top half of the pastry strip and making sure the rounded part of the apple is sticking out of the top of the pastry. Fold bottom half of the puff pastry up over the bottom of apple slices. Starting from one end, roll up pastry like a rosette, enclosing the apple slices. Place in muffin tins, apple-side up.
Bake for 35 to 40 minutes or until golden brown. Remove from oven and cool 10 minutes. Remove from muffin tins and set on wire rack. Serve warm or at room temperature. Serve with whipped cream or ice cream.
Drink Pairings