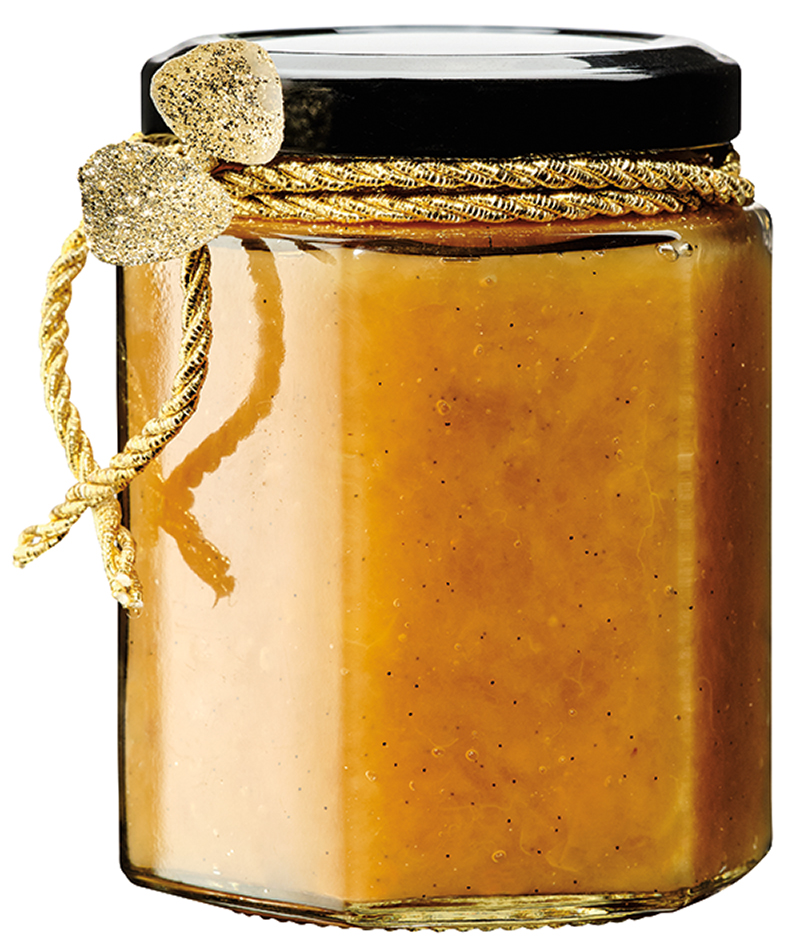 APPLE & CALVADOS BUTTER
This delicious homemade preserve is the perfect accompaniment to your holiday entertaining spread. Wrap up a jar or two in a curated gift box of edible treats and you are sure to be the gifting superstar this year!
Ingredients
Serves 3 cups (750 ml)
6 lbs (3 kg) Jonagold or Golden Delicious apples, peeled, cored, cut into ½-in (1.25 cm) pieces
1 cup (250 ml) lightly packed golden brown sugar, or to taste
1 large pinch fine sea salt
¼ cup (60 ml) unsweetened apple cider
½ cup (125 ml) Père Magloire Fine VS Calvados
Instructions
In a large heavy-bottomed saucepan, combine apples, brown sugar, salt and apple cider. Halve the vanilla bean lengthwise and scrape seeds from pod. Add seeds and pod to saucepan and stir to combine.
Over medium-high heat, bring mixture just to a boil, stirring constantly. Reduce heat to medium-low. Continue cooking for approximately 1 hour, stirring frequently and mashing apples with the back of a spoon until they are fully cooked and no lumps remain. (Cooking time will vary depending on apple type.) Add Calvados and cook for another 30 minutes, or until almost all liquid has been absorbed into apples.
Remove from heat and remove vanilla bean. Spoon apple butter into sterilized jars. Wipe rims of jars clean and seal. Cool for 1 hour and store in refrigerator for up to 3 weeks. Use as a sweet side on crêpes, toast or French toast.
Drink Pairings