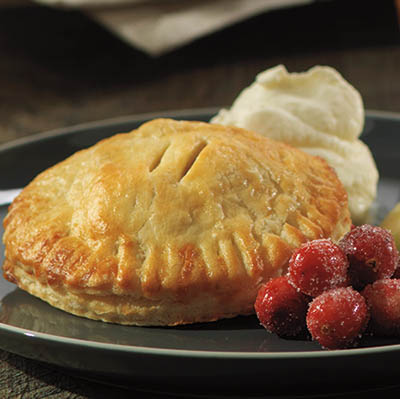 APPLE CRANBERRY HAND PIES
Ingredients
Serves 12 Pies
2½ cups (625 ml) cake and pastry flour
1 cup (250 ml) butter, chilled and diced
¼ to ½ cup (60 to 125 ml) cold water
4 cups apples, peeled, cored and diced small
¼ cup (60 ml) dried cranberries, chopped
1 cup (250 ml) brown sugar
2 tbsp (30 ml) butter, melted
1 tbsp (15 ml) all-purpose flour
4 tbsp (60 ml) whipping cream
Instructions
Add flour, butter and salt to a food processor fitted with a metal blade. Pulse until mixture looks like coarse crumbs about the size of peas.
Sprinkle with ¼ cup (60 ml) cold water. Pulse until dough sticks together when squeezed. Add more water, 1 tbsp (15 ml) at a time, if necessary. It will still look a bit crumbly.
Shape dough into two balls. Wrap tightly in plastic wrap and refrigerate for at least 1 hour.
To make FILLING: In a large bowl, combine all ingredients. Toss to blend. Set aside.
Preheat oven to 375 F (190 C). Roll pastry to ⅛ -in (0.25 cm) thickness on a floured surface. Cut into 3-in (7.5 cm) rounds. Place 2 tbsp (30 ml) on half of each round.
In a small bowl, whisk together egg wash ingredients. Using a small brush, spread egg wash around edges of each pie. Cover each pie with another pastry round and press edges to seal. Crimp edges with a fork.
Make a slit on top of each pie and brush with remaining egg wash. Transfer to a parchment paper-lined baking tray and bake for about 20 minutes or until pies are golden brown. Rotate pan halfway through.
Remove to a rack to cool. Serve warm.
Drink Pairings