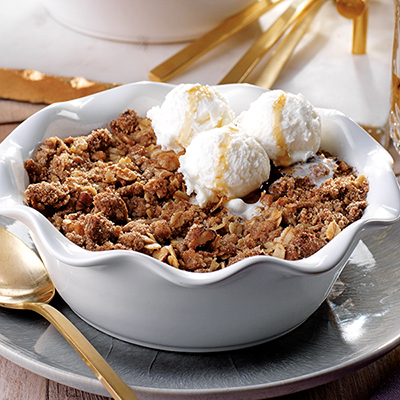 Ingredients
Serves 6 to 8
2 tbsp (30 ml) cold water
6 tbsp (90 ml) room temperature butter, divided
8 to 9 large apples, about 3 lbs (1.5 kg), peeled, cored and chopped into about 1½ x ½-in (3.75 x 1.25 cm) chunks
⅓ cup (75 ml) granulated sugar
1 pinch + ¼ tsp (1 ml) salt, divided
1 tsp + 1 tbsp (5 +15 ml) ground cinnamon, divided
3 tbsp (45 ml) lemon juice
¾ cup (175 ml) coarsely chopped walnuts (optional)
1½ cups (375 ml) rolled oats
½ cup (125 ml) brown sugar
½ cup (125 ml) melted butter
2 tsp (10 ml) pure vanilla extract
½ cup (125 ml) cold butter, cut in ¾-in (2 cm) chunks
Instructions
In a small bowl, add cornstarch to cold water, mix well and set aside.
In a large saucepan over medium heat, melt 4 tbsp (60 ml) butter and add apples. Cook for 1 minute. Add sugar, pinch salt and 1 tsp (5 ml) cinnamon and coat apples. Pour cornstarch mixture evenly over apples then add lemon juice and 2 tbsp (30 ml) butter. Stir, cover and turn off heat. Set aside.
Adjust oven rack to centre position and preheat to 350 F (180 C).
To make topping, spread walnuts (if using) in single layer on baking sheet and bake for 4 minutes. Toss lightly and return to oven for another 3 to 4 minutes to toast evenly. Remove from oven and let cool. Keep oven on.
In a large bowl, combine oats, flour, sugars, 1 tbsp (15 ml) cinnamon and ¼ tsp (1 ml) salt. Mix ½ cup (125 ml) melted butter and vanilla extract and fold into oat mixture. Add toasted walnuts and stir. Set aside.
In a 9 x 9-in (23 x 23 cm) square baking dish, or several small individual bakers, evenly pour in apple filling. Sprinkle oat topping evenly over filling, about ¾-in (2 cm) thick. Evenly scatter ½ cup (125 ml) cold chunks of butter.
Bake for about 45 minutes, or until topping turns golden brown and edges are bubbling. If baking in smaller single-serve dishes, reduce baking time to 30 minutes and monitor. Remove from oven and let rest for about 20 minutes before serving. Serve with ice cream.
Drink Pairings