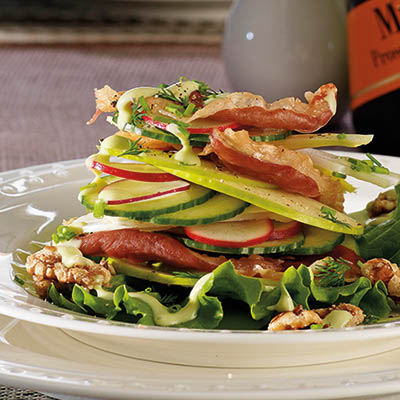 APPLE, FENNEL AND RADISH SALAD WITH CREAMY AVOCADO DRESSING
Ingredients
Serves 4
4 thin slices prosciutto (optional)
½ cup (125 ml) coarsely chopped walnuts
1 tbsp (15 ml) granulated sugar
salt and freshly ground black pepper, to taste
½ cup (125 ml) buttermilk
2 tbsp (30 ml) apple cider vinegar
½ avocado, peeled and chopped
½ English cucumber, trimmed
1 small fennel bulb, trimmed
8 leaves leafy green lettuce
chopped fresh dill and chives, for garnish
Instructions
Preheat oven to 375 F (190 C). Place prosciutto in single layer on parchment-lined baking tray and bake until crispy, about 7 to 10 minutes. Set aside and cool to room temperature.
Place walnuts in a small frying pan and toast over medium heat until warm, about 3 minutes. Sprinkle with sugar and stir constantly with a heatproof spatula until sugar has melted and coated walnuts. Remove frying pan from heat, season walnuts with a pinch of salt and pepper before transferring to a parchment-lined plate to cool to room temperature.
To make dressing, in a blender, combine buttermilk, cider vinegar and avocado until creamy and smooth. Season dressing to taste with salt and pepper and thin consistency with additional buttermilk or water, if desired.
With a mandolin or a very sharp knife, slice unpeeled apples, cucumber, radishes and fennel bulb crosswise into ⅛-in (3 mm) rounds. Cut out core from apple slices and discard. Divide lettuce leaves among serving plates. Stack alternating slices of apple, cucumber, radish, fennel and prosciutto (if using) on each bed of lettuce. Drizzle with dressing before garnishing with candied walnuts and a sprinkle of chopped dill and chives. Serve immediately.
Drink Pairings