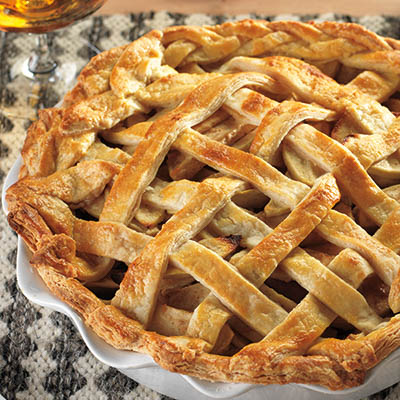 Ingredients
Serves 8 to 8
FILLING 3 lbs (1.5 kg) firm cooking apples, such as Granny Smith, peeled, cored, thinly sliced
1 cup (250 ml) brown sugar
2 tsp (10 ml) ground cinnamon
1 tbsp (15 ml) maple syrup
3 tbsp (45 ml) orange juice
1 cup (250 ml) + 3 tbsp (45 ml) unsalted butter, chilled and cut into cubes, divided
2½ cups (375 ml) pastry flour
¼ cup (60 ml) to ½ cup (125 ml) ice cold water
¼ cup (60 ml) whipping cream
Instructions
In a food processor, blend 1 cup (250 ml) butter, flour, salt and sugar until mixture is coarse crumbs, the size of a peas. Sprinkle with ¼ cup (60 ml) of cold water and pulse until dough sticks together when squeezed, adding up to ¼ cup (60 ml) more cold water, 1 tbsp (15 ml) at a time. It will still look crumbly. Form dough into two balls, wrap with plastic wrap and chill in fridge for at least 2 hours, preferably overnight.
Preheat oven to 375 F (190 C).
Remove dough from fridge and let sit at room temperature for 10 to 15 minutes. Roll each dough ball to 1¼-in (3 cm) thick rounds on a well floured board or countertop. Reserve one round for top crust. Line a 9-in (23 cm) pie plate with one round and add filling. Dot with 3 tbsp (45 ml) butter.
For a lattice top, cut top crust round into ½- to ¾-in (1.25 to 2 cm) strips. Weave strips on top of pie to resemble a lattice, alternating strips so that they lay over, then under each other. Alternatively, cover pie with round top crust, trim edges and crimp. Extra pie dough can be made into decorations, such as leaves and braids.
In a small bowl, mix egg yolks, cream and pinch of salt together for an egg wash and brush pastry with it. If the solid top crust was used, cut vents into top of crust. Bake until top crust starts to brown, about 20 to 30 minutes. Turn heat down to 350 F (180 C) and bake another hour. Remove from oven and cool at least 1 hour before serving. Serve at room temperature or reheat and serve warm.
Drink Pairings