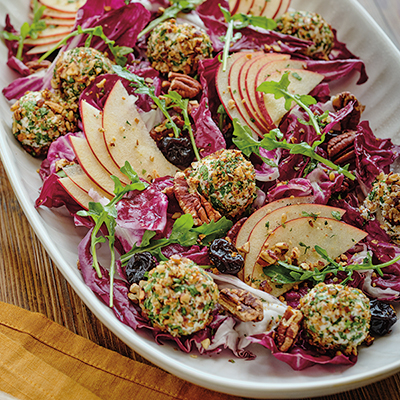 Apple & Radicchio Salad with Goat's Cheese Truffles
Ingredients
Serves 4-6
¾ cup (175 ml) soft goat's cheese
½ cup (125 ml) mascarpone
1 tbsp (15 ml) finely minced fresh thyme leaves
1 tbsp (15 ml) finely sliced fresh chives
1 large pinch each sea salt and freshly ground black pepper
¾ cup (175 ml) finely chopped toasted pecans
¼ cup (60 ml) finely chopped Italian parsley leaves
1 tbsp (15 ml) finely minced shallot
2 tsp (10 ml) Dijon mustard
2 tbsp (30 ml) white wine or apple cider vinegar
sea salt and freshly ground black pepper, to taste
inner leaves of 1 large head radicchio, torn in half if large, washed, dried and chilled
1 red apple (such as Pink Lady), quartered, cored and thinly sliced
½ cup (125 ml) toasted pecans
⅓ cup (75 ml) dried tart cherries
Instructions
To make Cheese Truffles, in a medium bowl, combine goat's cheese, mascarpone, thyme, chives, salt and pepper. Using a fork, mix until smooth and lightened in texture. Line a small baking sheet with parchment paper.
In another medium bowl, combine pecans and parsley. Using a spoon, scoop 1 scant tablespoon (just under 15 ml) of cheese mixture, roll it into a ball and place on lined baking sheet. Repeat with remaining cheese. Roll each truffle in chopped pecans and parsley, tossing to coat well and pressing mixture lightly into truffles to adhere. Place back on lined sheet and refrigerate until ready to serve.
To make Vinaigrette, in a small bowl, combine honey, shallot, mustard, vinegar, salt and pepper. Whisk to combine, drizzle in oil and continue whisking until smooth.
To assemble Salad, place radicchio, arugula and apple into a serving bowl. Drizzle with a few tablespoons of Vinaigrette, toss to coat, and season with salt and pepper, adding more Vinaigrette if desired. Transfer to a serving platter and scatter Cheese Truffles, pecans and cherries over top.
To serve, lightly drizzle a little of remaining Vinaigrette over salad. Serve immediately, with extra Vinaigrette on side.
Drink Pairings