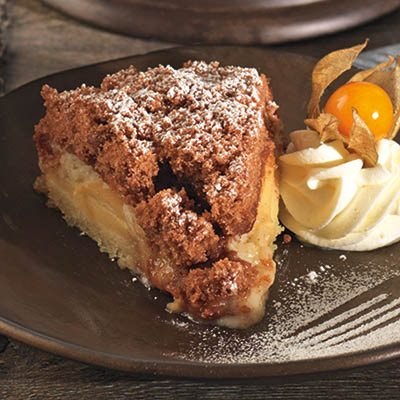 APPLE STREUSEL KUCHEN TORTE
Ingredients
Serves 8 to 10
1 cup (250 ml) granulated sugar
½ cup (125 ml) butter, melted
¼ cup (60 ml) all-purpose flour
¾ cup (75 ml) soft butter
½ cup (125 ml) granulated sugar
1 tsp (5 ml) vanilla extract
1½ cups (375 ml) all-purpose flour
2 tsp (10 ml) baking powder
4 to 5 apples, peeled, cored and sliced, ¼-in (0.5 cm) thick
whipped cream or vanilla ice cream
Instructions
To make STREUSEL TOPPING: Mix together sugar, butter, flour and cinnamon until a crumble mixture forms. Set aside. Makes ¾ cup (175 ml).
To make KUCHEN TORTE: Preheat oven to 350 F (180 C). Grease bottom and sides of a 9-in (23 cm) springform pan with butter and line bottom with parchment paper. Set aside.
In a large bowl, beat butter and sugar together with an electric mixer until fluffy. Add eggs, vanilla and milk and beat together until smooth. Stir in flour, baking powder, baking soda and salt until smooth and blended. Spread batter onto bottom of prepared pan. Arrange apples over batter. Evenly sprinkle Streusel Topping over apples.
Bake until apples are tender and a skewer inserted in the centre comes out clean. Topping should be golden. Remove and cool in pan on a wire rack before running a knife around inside of pan and removing the sides. Serve with whipped cream or vanilla ice cream.
Drink Pairings