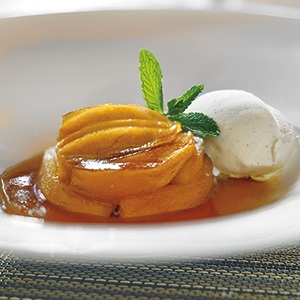 Ingredients
Serves 4
1 cup (250 ml) granulated sugar
2 tbsp (30 ml) butter, plus extra for greasing ramekins
4 Granny Smith apples, peeled, cored and cut into quarters
½ x 1 lb (500 g) frozen puff pastry, thawed
vanilla ice cream, for garnish
fresh mint sprigs, for garnish
Instructions
Preheat oven to 375 F (190 C). Grease 4 x ¾ cup (175 ml) ramekins. Place on a baking sheet and set aside.
Combine sugar and water in a medium, heavy-bottomed saucepan. Stir over medium heat until sugar is dissolved. Then continue simmering over medium heat until it begins to turn amber in colour. Immediately remove from the heat and pour enough caramelized sugar in the bottom of each ramekin to lightly coat.
Keeping remaining caramelized sugar in saucepan, deglaze pan with butter. Add apples and broken cinnamon stick. Stir over medium heat and cook apples until almost tender and have started to release their juices, about 10 to 15 minutes. Apples should be coated in syrup. Divide apple mixture among ramekins and press slices in so they are flush with tops of ramekins. Set aside.
Meanwhile, roll out pastry on a lightly floured surface into an 8 x 10-in (20 x 25 cm) rectangle about ¼-in (0.5 cm) thick. Cut into rounds using pastry cutter the diameter size of ramekins. If you don't have a pastry cutter, use a small bowl to cut puff pastry. Place puff pastry rounds over each individual ramekin and slightly press into apples. Make several slits in pastry to allow steam to escape while baking.
Bake for approximately 15 to 20 minutes, until pastry is golden and apples have started to bubble. Remove ramekins and cool on a rack for 20 to 30 minutes.
To serve, run a knife around outside edge of ramekins. Carefully place dessert plate over ramekin, making sure it is pressed tightly to the plate to contain the juices. Use oven mitts if ramekin is too hot to touch. Immediately invert plate and let ramekin sit upside-down on plate for a few minutes. Tap top and allow Tartin to release from ramekin. Repeat with remaining ramekins. Serve with a scoop of vanilla ice cream and garnish with mint.
Drink Pairings