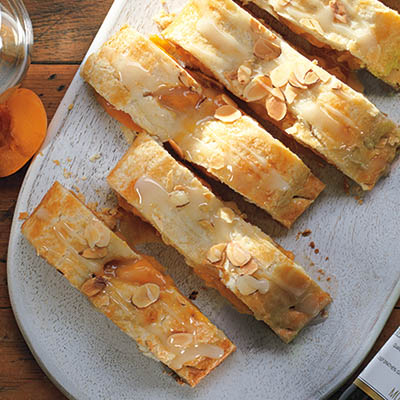 APRICOT-ALMOND PASTRY SLICES
Ingredients
Serves 10 to 12
¾ cup (175 ml) cold, unsalted butter
2¼ cups (560 ml) all-purpose flour, sifted
¼ cup (60 ml) granulated sugar
¼ tsp (1 ml) baking powder
4 to 6 tbsp (60 to 90 ml) ice water
1 tbsp (15 ml) apple cider vinegar
4 cups (1 L) fresh apricots, halved and pitted
⅓ cup (75 ml) fresh orange juice
½ cup (125 ml) apricot preserves
¼ cup (60 ml) light brown sugar
1 tbsp (15 ml) unsalted butter
2 tsp (10 ml) tapioca starch or cornstarch
¼ tsp (1 ml) almond extract
1 cup (250 ml) sliced almonds, toasted
½ cup (125 ml) sifted icing sugar
1 to 2 tbsp (15 to 30 ml) whole milk or cream
Instructions
To make PASTRY: Cut butter into cubes and freeze for 30 minutes. In a large zip-lock bag combine flour, granulated sugar, salt and baking powder. Stir and freeze, at least 30 minutes. Place ice-cold flour in food processor with metal blade. Add two thirds of frozen butter and pulse until mixture resembles coarse meal. Add remaining butter and pulse until frozen butter is the size of small peas. Add 4 tbsp (60 ml) ice water and vinegar and pulse a few times. If mixture does not hold together when pinched, add remaining water. Turn dough out onto a clean work surface and gather it together. Flatten slightly into a large disk. Tightly seal in plastic wrap and refrigerate for 2 hours or preferably overnight. Can be refrigerated for several days.
In a medium-sized saucepan combine FILLING ingredients except for tapioca starch, almond extract and almonds. Stir gently over medium heat for about 10 minutes or until apricots are very soft. Remove from heat. Sprinkle with starch, almond extract and three quarters of the sliced almonds. Stir in and set aside to cool. Can be made day ahead, if desired. Cover and refrigerate.
To make pie, preheat oven to 375 F (185 C). Line a baking sheet with parchment paper. On a lightly floured surface, using a floured rolling pin, roll dough into a 12 x 18-in (30 x 45 cm) rectangle. Trim to 11 x 16-in (28 x 40 cm).
Using a long thin spatula, transfer pastry to lined baking sheet. Turn baking sheet so long side is facing you. Brush edges of pastry with whisked egg. Spread filling evenly over bottom half of long side leaving a ½-in (1.25 cm) border. Fold top horizontal half over filling towards you. Press edges of pastry to seal. Press lightly along edges with tines of a fork to secure. Brush entire surface with remaining egg. Using a paring knife, slash surface with 5 small steam vents.
Bake in centre of preheated oven for 45 to 55 minutes or until golden brown. Transfer baking sheet to rack to cool.
In a measuring cup, combine TOPPING ingredients. Stir until smooth, adding just enough milk to make it pourable but not too runny. Drizzle in a zigzag pattern over top and sprinkle with remaining toasted almonds. Let rest and settle for about 2 hours before slicing and serving. Best eaten at room temperature day it's made.
Drink Pairings