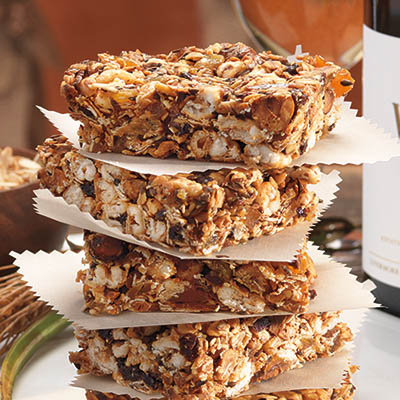 APRICOT ALMOND BUTTER BARS
Ingredients
Serves 16 large bars
2 cups (500 ml) large flake, old-fashioned rolled oats
½ cup (125 ml) slivered almonds
½ cup (125 ml) coarsely chopped hazelnuts
2 tbsp (30 ml) each flaxseeds, sesame seeds
2 cups (500 ml) unsweetened puffed whole grain cereal
⅔ cup (150 ml) dried currants
⅔ cup (150 ml) chopped dried apricots
½ cup (125 ml) chopped seedless raisins
½ cup (125 ml) creamy almond butter
⅓ cup (75 ml) light brown sugar
1 tsp (5 ml) vanilla extract
½ tsp (2 ml) fine sea salt
Instructions
Position baking rack in centre of oven. Preheat to 350 F (180 C). Butter a 9 x 13-in (3.5 L) baking pan. Set aside.
In a large mixing bowl, combine oats, almonds, hazelnuts, flaxseeds and sesame seeds. Spread evenly over a large baking sheet. Bake until oats are lightly golden and nuts are fragrant, 8 to 10 minutes, stirring to mix halfway through. Transfer to a large mixing bowl to cool. Add puffed cereal, currants, apricots and raisins. Toss to combine.
In a medium-sized saucepan, combine almond butter, brown sugar, honey, vanilla and salt. Heat over medium-low, stirring frequently, until mixture is emulsified and bubbling slightly, 5 minutes.
Immediately pour mixture over dry ingredients and mix well to coat. Transfer to buttered baking pan. Coat hands with canola oil or butter and press mixture down firmly, making an even layer. Refrigerate uncovered until firm, about 1 hour. Cut into bars.
Drink Pairings