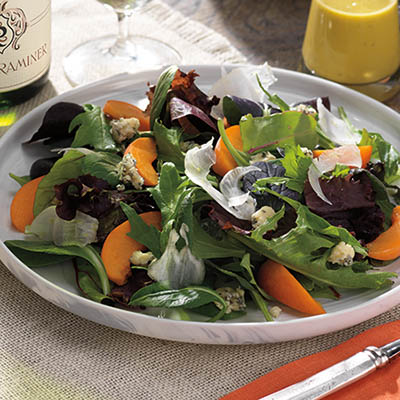 APRICOT AND SHAVED FENNEL SALAD WITH BLUE CHEESE
Ingredients
Serves 4
4 fresh apricots, pitted and coarsely chopped
¼ cup (60 ml) extra-virgin olive oil
¼ cup (60 ml) champagne vinegar
2 tbsp (30 ml) liquid honey
2 tsp (10 ml) kosher salt
¼ tsp (1 ml) ground black pepper
1 cup (250 ml) mixed baby salad greens, washed and spun dry
½ fennel bulb, thinly shaved on a mandolin
2 fresh apricots, pitted and cut into wedges
¼ cup (60 ml) crumbled blue cheese
¼ cup (60 ml) torn basil leaves
Instructions
Combine DRESSING ingredients in a food processor or blender and purée until smooth. Adjust seasonings to taste. Transfer to a covered container. Can be refrigerated for up to 3 days. Makes 1 cup (250 ml).
To make SALAD: Combine salad greens and shaved fennel in a large salad bowl. Drizzle with 2 tbsp (30 ml) Apricot Basil Dressing. Gently toss and divide among 4 salad plates.
Divide apricot wedges among plates and scatter with crumbled blue cheese and torn basil leaves.
Drizzle each plate with an additional 1 tbsp (15 ml) of dressing. Refrigerate remaining dressing for another use. Serve immediately.
Drink Pairings