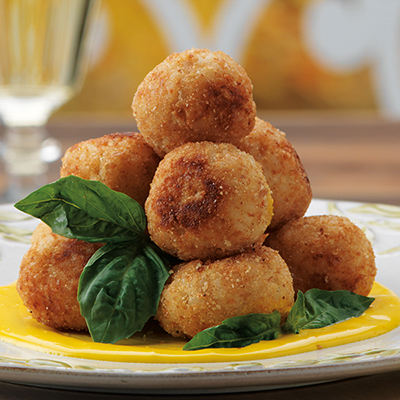 ARANCINI WITH SAFFRON AIOLI
Ingredients
Serves 8 to 10
2 tbsp (30 ml) + ½ cup (125 ml) olive oil, divided
8 cups (2 L) chicken stock
2 cups (500 ml) Arborio rice
½ cup (125 ml) dry white wine
1 cup (250 ml) grated Parmesan
1 cup (250 ml) grated mozzarella
salt and pepper, to taste
2 egg yolks, room temperature
1 tsp (5 ml) Dijon mustard
2 cups (500 ml) bread crumbs, divided
4 cups (1 L) oil, for frying
Instructions
In a large saucepan over medium heat, heat 2 tbsp (30 ml) olive oil. Sauté onions and garlic until translucent. While onions are cooking, heat chicken stock in a large saucepan. Add rice to onions and stir for 1 to 2 minutes, then add wine to deglaze.
Add warmed chicken stock 2 cups (500 ml) at a time, adding more only once liquid has been absorbed. Once 6 cups (1.5 L) of liquid has been added, taste rice. If still a little crunchy, add more stock, 1 cup (250 ml) at a time until rice is al dente (it should be less runny than risotto).
Once rice is cooked, stir in Parmesan and mozzarella. Add salt and pepper to taste. Place in a shallow container and refrigerate.
To make Saffron Aioli, in a small blender, add egg yolks, lemon juice and mustard. Blend on high for 1 minute. Turn blender down to medium and slowly add ½ cup (125 ml) olive oil. It should thicken quickly. Once a mayonnaise consistency has been achieved, add saffron, and season to taste. Pulse until bright yellow, about 30 seconds. Can keep up to 1 week refrigerated.
Once rice has cooled, remove from fridge and add 2 eggs and 1 cup (250 ml) bread crumbs. Mix and form into golf ball-sized rounds. In a separate small bowl, add remaining bread crumbs. Roll each round in breadcrumbs, to coat.
In a medium to large saucepan over medium heat, heat frying oil. Once oil starts to ripple, fry arancini in small batches until golden brown, about 8 minutes each. Remove from oil and place on a paper towel-lined baking sheet. Serve warm with Saffron Aioli.
Drink Pairings