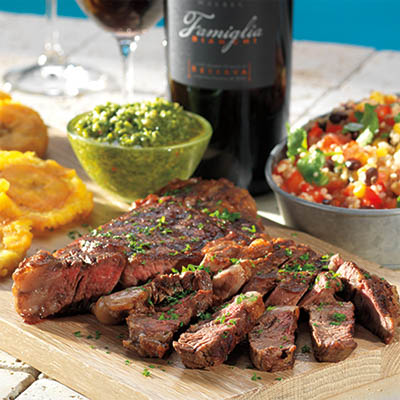 ARGENTINE-STYLE RIB-EYE WITH CHIMICHURRI SAUCE SERVED WITH QUINOA SALAD AND FRIED PLANTAINS
Ingredients
Serves 4
1 cup (250 ml) packed chopped fresh flat leaf parsley
½ cup (125 ml) packed chopped fresh cilantro
½ cup (125 ml) packed chopped fresh mint
¼ cup (60 ml) fresh oregano
4 garlic cloves, coarsely chopped
½ tsp (2 ml) fresh ground black pepper
½ tsp (2 ml) crushed red pepper flakes
¾ cup (175 ml) extra-virgin olive oil
3 tbsp (45 ml) sherry or red wine vinegar
3 tbsp (45 ml) fresh lime juice
2 tbsp (30 ml) red wine vinegar
2 tbsp (30 ml) minced fresh cilantro
¼ tsp (1 ml) dried oregano
½ tsp (2 ml) each salt and freshly ground black pepper
½ cup (125 ml) extra-virgin olive oil
1 cup (250 ml) canned black beans, rinsed and drained
1 cup (250 ml) thawed frozen corn kernels
1 large tomato, seeded and finely diced
1 small red bell pepper, seeded, finely diced
4 rib-eye or sirloin steaks, about 1½-in (3.75 cm) thick, 2 lbs (1 kg)
salt and freshly ground black pepper
2 tbsp (30 ml) olive oil, divided
1½ cups (375 ml) canola oil
Instructions
To make CHIMICHURRI SAUCE: In blender combine parsley, cilantro, mint, oregano, garlic, salt, pepper, red pepper flakes, shallot, olive oil, sherry or red wine vinegar and lemon, and pulse until well chopped, but not puréed. Place into bowl and set aside.
To make QUINOA SALAD: Whisk together lime juice, red wine vinegar, cilantro, cayenne, dried oregano, ½ tsp (2 ml) each salt and pepper in a bowl. Add olive oil in a thin steady stream, whisking constantly until smooth and emulsified. Set dressing aside.
In a saucepan over medium-high heat, combine quinoa and water. Stir in salt. Cover and bring to a boil, then reduce heat to low and simmer with lid ajar until quinoa is tender and all water has been absorbed, about 10 minutes. Transfer quinoa to a colander and rinse under cold running water. Drain thoroughly, then transfer to a large non-reactive bowl.
Add black beans to bowl with quinoa. Drain and pat dry corn with paper towels and add along with tomato and red bell pepper. Drizzle with prepared dressing and toss well. Set aside.
To make STEAKS: Bring to room temperature and season with salt and pepper.
Heat 1 tbsp (15 ml) oil in a large castiron grill pan over high heat just until oil begins to smoke. Add 2 steaks and cook, flipping once, until well browned on both sides and medium rare, 8 to 10 minutes total. Alternatively place on a prepared high-heat barbecue. Grill a little longer for medium or well done. Transfer cooked steaks to a large plate, cover loosely with foil, and set aside in a warm spot. Repeat process with remaining oil and steaks.
While steaks are grilling prepare FRIED PLANTAINS: Peel plantains and slice crosswise into 1-in (2.5 cm) thick pieces. In a large, deep 12 x 2-in (30 x 5 cm) sauté pan, heat canola oil to 325 F (170 C). Carefully add plantains to oil and fry until golden yellow in colour, about 1 minute per side.
Remove with a slotted spoon and place on a parchment paper-lined baking sheet, standing them on their ends. With the back of a wide, wooden spoon or thick spatula, press each piece of plantain down to half its original thickness. Return oil temperature to 325 F (170 C).
Return plantains to hot oil and cook until golden brown, about 2 to 4 minutes per side. Remove to a baking sheet lined with paper towel. Sprinkle lightly with salt.
Serve Fried Plantains immediately with Steaks and Chimichurri Sauce and Quinoa Salad.
Drink Pairings