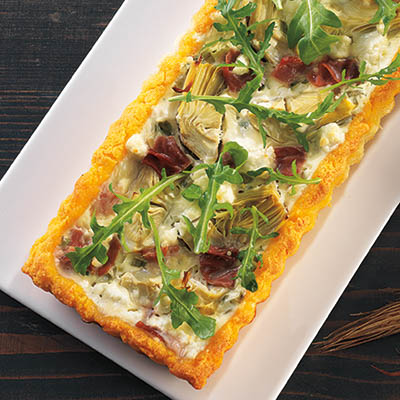 ARTICHOKE AND PROSCIUTTO TART WITH POLENTA CRUST
Ingredients
Serves 4 to 6 as an appetizer
1½ cups (375 ml) vegetable stock
½ cup (125 ml) shredded Asiago or Parmesan
¼ tsp (1 ml) freshly ground black pepper
1 cup (250 ml) full-fat plain Greek yogurt
3 whole green onions, finely chopped
2 tbsp (30 ml) chopped flat-leaf parsley
1 tbsp (15 ml) finely chopped fresh rosemary
freshly ground black pepper, to taste
12 oz (340 g) package of frozen, quartered artichoke hearts, thawed and drained
2 thin slices prosciutto, coarsely chopped
2 oz (60 g) crumbled goat's cheese
½ cup (125 ml) shredded Asiago or Parmesan
Instructions
For POLENTA CRUST: Iin a saucepan, bring water and vegetable stock to a boil over medium-high heat. Whisk in polenta, pouring in a thin stream. Continue to whisk about 1 minute. Reduce heat to low and cover. Cook for 10 minutes, stirring vigorously with a wooden spoon every couple minutes to prevent sticking to bottom. Remove from heat and let sit, covered, for 10 minutes, stirring occasionally. Mix in cheese, egg, salt and pepper.
Grease a 10-in (25 cm) ceramic tart pan. Transfer polenta to pan and spread mixture across centre of pan, pushing it up sides. Set aside for 15 minutes to set, then, with your fingers, form an even rim about ½-in (1 cm) thick.
Preheat oven to 375 F (190 C). To make FILLING: In a medium bowl, mix together yogurt, eggs, green onions, parsley, rosemary, cayenne and black pepper until well combined. Evenly distribute artichokes and prosciutto over crust. Sprinkle with goat's cheese and gently pour filling over top. Sprinkle with shredded cheese.
Bake in centre of oven until top turns golden brown and filling is set, 35 to 45 minutes. Transfer to a wire rack and set aside to firm for 30 to 40 minutes. Garnish with arugula, slice and serve.
Drink Pairings