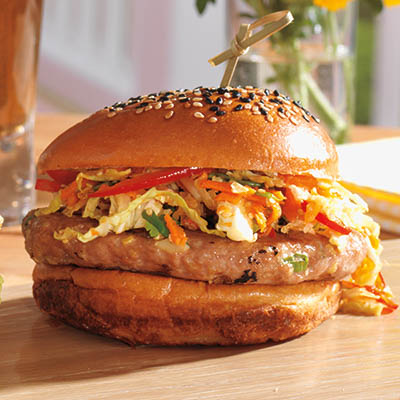 ASIAN-INSPIRED CHICKEN BURGER WITH SRIRACHA MAYO AND SESAME SLAW
Ingredients
Serves 4
1 lb (500 g) ground chicken (50/50 white and dark meat)
½ cup (125 ml) Japanese panko breadcrumbs
1 tbsp (15 ml) minced garlic
1 tbsp (15 ml) minced ginger
1 tbsp (15 ml) hoisin sauce
3 green onions, finely chopped
2 tbsp (30 ml) finely chopped cilantro
salt and freshly ground black pepper
1 garlic clove, finely grated
1 cup (250 ml) mayonnaise
2 tbsp (30 ml) lemon juice
salt and freshly ground black pepper
1 to 3-inch (7.5 cm) piece ginger, grated fine
½ cup (125 ml) rice wine vinegar
2 tbsp (30 ml) sesame oil
1 tbsp (15 ml) sriracha or garlic chili paste
½ head Napa cabbage, cut into fine 2-inch (5 cm) long shreds
1 red bell pepper, fine julienne into 2-inch (5 cm) lengths
1 lg carrot, finely shredded
1 serrano chili, seeded and finely minced
3 green onions, finely chopped on the bias
2 tbsp (30 ml) finely chopped cilantro
2 tbsp (30 ml) finely chopped mint leaves
½ tsp (2 ml) ground black pepper
2 tbsp (30 ml) toasted sesame seeds
Instructions
In a large mixing bowl combine all the ingredients until mixed well, being careful not to overwork the mixture. Cover and refrigerate 15 minutes. Divide and form the mixture into 8 X 3-inch (7.5 cm) diameter patties.
Heat a grill pan or barbecue over medium-high heat. Lightly grease grill and add patties, cooking 4 minutes per side. Meanwhile toast hamburger buns. Slice horizontally and spread a dollop of Sriracha Garlic Aioli to the bottom and top of each bun. Add a patty and top with some of the Asian slaw. Cover with top bun and toothpick to hold.
To make SRIRACHA GARLIC AIOLI: Combine all ingredients until well blended. Cover and refrigerate until ready to use. This can be made 1 day ahead.
To make ASIAN SESAME SLAW: In a mixing bowl, combine ginger, rice wine vinegar, soy sauce, lime juice, sesame oil, honey and sriracha. Whisk until well blended. Toss together remaining ingredients and combine with dressing until well coated. Let sit 10 minutes before serving.
Drink Pairings