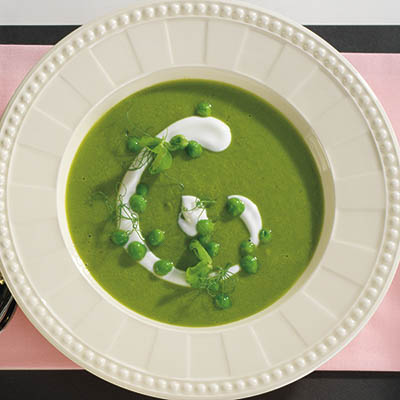 ASPARAGUS AND SPRING PEA SOUP
Ingredients
Serves 4
2 tbsp (30 ml) unsalted butter
3 shallots, peeled and chopped
2 large garlic cloves, peeled and chopped
1¾ lbs (825 g) fresh asparagus, woody ends trimmed
2 cups (500 ml) lightly packed baby spinach leaves, washed and rinsed
1 cup (250 ml) fresh or frozen thawed green peas
2½ cups (625 ml) hot chicken or vegetable stock, plus extra if desired
¼ cup (60 ml) coarsely chopped fresh basil
2 tbsp (30 ml) fresh tarragon, chopped
½ lemon, zest and juice only
¼ tsp (1 ml) white pepper
½ cup (125 ml) plain Greek yogurt
assorted red and green microgreens, for garnish
Instructions
In a large saucepan, heat butter and oil over medium heat until foamy. Add shallots and garlic and sauté until soft, about 2 minutes. Do not brown.
Cut asparagus into pieces. Should be about 4 cups (1 L). Add to shallots and sauté for 3 or 4 minutes. Stir in spinach, peas and stock. Return to simmer and remove from heat. Vegetables should be tender, but still bright green in colour.
Transfer to a high-speed blender or food processor. Add herbs, lemon zest and juice, salt and pepper. Purée until smooth and velvety. Taste and add more salt and pepper, if desired. Strain through a fine-meshed sieve, if desired.
To serve, ladle hot soup into bowls. Garnish with a smear of yogurt and top with creatively arranged microgreens.
Drink Pairings