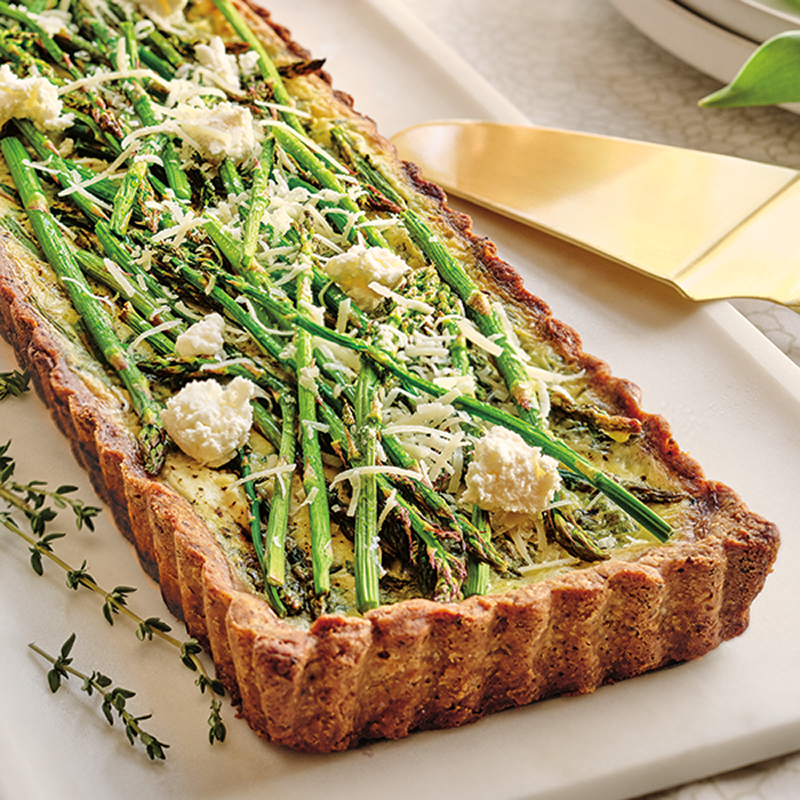 Asparagus, Herb & Goat's Cheese Tart
Ingredients
Serves Serves 4 to 6
⅓ cup + 2 tbsp (105 ml) hazelnuts, toasted and cooled
½ cup + 2 tbsp (155 ml) all-purpose flour
1 large pinch granulated sugar
¼ cup + 2 tbsp (90 ml) salted butter, chilled, cut into ½-in (1.25 cm) pieces
1 tbsp + 2 tsp (25 ml) water
¼ cup + 2 tbsp (60 + 30 ml) fresh soft goat's cheese, divided
¾ cup + 2 tbsp (205 ml) whipping cream
½ tsp (2.5 ml) fine sea salt, plus extra to taste
½ tsp (2.5 ml) freshly ground black pepper, plus extra to taste
2 scant tsp (just under 10 ml) chopped fresh thyme leaves
3 tbsp (45 ml) finely chopped flat-leaf parsley leaves
3 tbsp (45 ml) thinly sliced chives
30 to 35 very slim asparagus spears, trimmed, rinsed and patted dry
Instructions
To make Pastry, in bowl of a food processor, combine hazelnuts, flour, sugar and salt. Process until mixture reaches consistency of coarse meal. Add butter and pulse until sandy in texture with little bits of butter still visible. Drizzle with 1 tbsp + 2 tsp (25 ml) water and pulse until combined and dough just begins to form into a ball. Remove dough from bowl and transfer to a 14 x 5-in (35.5 x 12 cm) tart pan with a removable bottom. Using fingers, press dough firmly and evenly into bottom and up sides of pan. Place tart pan on a small baking sheet and freeze for 30 minutes.
Preheat oven to 375 F (190 C). Transfer baking sheet with tart pan to oven and bake until crisp and golden but not totally baked through, 15 to 20 minutes. Remove from oven, leaving tart on baking sheet, and let cool.
Meanwhile, make Filling. Crumble ¼ cup (60 ml) goat's cheese into a medium bowl. Add eggs, cream, salt, pepper, thyme, parsley and chives. Whisk well to combine. Pour filling into cooled tart shell and top with asparagus spears. Season lightly with salt and pepper and carefully transfer tart to oven. Bake for 20 to 30 minutes, or until filling is just set and asparagus is cooked through. Remove from oven and immediately dot with remaining 2 tbsp (30 ml) goat's cheese. Let cool for 15 minutes.
To serve, carefully remove tart from pan, keeping it on metal base. Slice and serve warm.
Drink Pairings