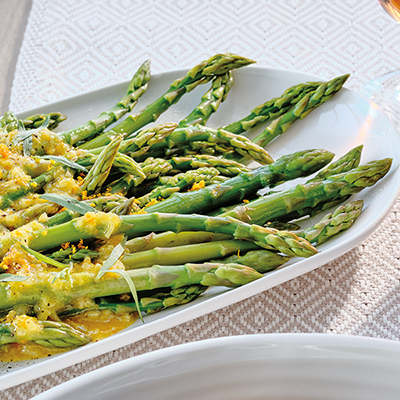 Asparagus with Orange & Tarragon
Ingredients
Serves 6
1 medium shallot, finely minced
3 tbsp (45 ml) white wine vinegar
½ tsp (2.5 ml) Dijon mustard
3 tbsp (45 ml) extra-virgin olive oil
kosher salt and black pepper, to taste
2 bunches (about 30 spears) green asparagus, trimmed
2 tbsp (30 ml) chopped fresh tarragon leaves
Instructions
Finely zest one orange and place zest in a medium bowl. Set aside.
Juice both oranges into a small saucepan. Place over medium heat and bring to a simmer. Allow juice to reduce to about 3 tbsp (45 ml).
Meanwhile, place minced shallot in a small bowl with vinegar. Set aside for 5 minutes.
Once juice has reduced, remove saucepan from heat and transfer juice to bowl with orange zest, then add mustard. Drain shallots (discarding or reserving vinegar for another use) and add to orange mixture, whisking to incorporate everything together. Slowly add oil and whisk until dressing has thickened slightly. Season to taste with salt and pepper. Set aside at room temperature.
Bring a large saucepan of water to a boil over high heat. Season water with salt, reduce heat to medium and add asparagus. Cook until desired doneness is achieved; start checking after about 2 minutes, as asparagus will cook at different rates depending on thickness. With tongs or a slotted spoon, transfer asparagus to a colander and rinse under cold water for 1 minute. Pat dry and transfer to a serving platter.
To serve, spoon orange vinaigrette over asparagus and garnish with tarragon and black pepper. Serve immediately.
Drink Pairings