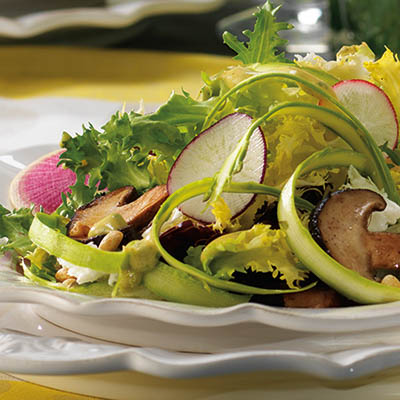 ASPARAGUS RIBBON SALAD WITH FRESH BURRATA
Ingredients
Serves 6
1 tbsp (15 ml) unsalted butter
2 oz (60 g) shiitake mushrooms, thinly sliced
salt and pepper, for seasoning
½ lb (250 g) fresh asparagus, tough ends trimmed
½ small head frisée lettuce, outer leaves trimmed
½ small head radicchio, trimmed and leaves separated
4 assorted radishes, trimmed
¼ cup (60 ml) extra-virgin olive oil
2 tbsp (30 ml) fresh lemon juice
2 tsp (10 ml) minced fresh tarragon
1 tsp (5 ml) Dijon mustard
⅓ cup (75 ml) burrata cheese
¼ cup (60 ml) pine nuts, toasted
Instructions
Melt butter in a heavy-bottomed frying pan. Add sliced shiitakes and sauté over medium heat until golden. Season with a little salt and pepper and set aside.
Meanwhile, wash and blot dry trimmed asparagus spears. Working with 1 spear at a time, use a vegetable peeler to shave spears into long, thin ribbons. Transfer ribbons to a large bowl. Set aside.
Wash and spin-dry trimmed frisée and separate into bite-sized leaves. Add to asparagus. Repeat with radicchio. Thinly shave radishes on a mandolin, or cut with a paring knife into paper-thin slices, then add to asparagus and greens.
In a small bowl, combine oil, juice, tarragon and mustard. Whisk vigorously until blended. Add salt and pepper to taste.
Gently toss asparagus and greens with cooled shiitakes in bowl. Place equal amounts on 4 individual serving plates. Using a small spoon, drop little bits of soft burrata cheese onto each serving and sprinkle with pine nuts. Give oil dressing a quick whisk and drizzle over top. Dust with fresh pepper to taste and serve.
Drink Pairings