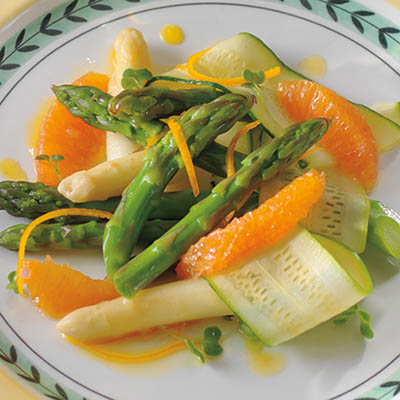 Ingredients
Serves 4
¾ cup (175 ml) fresh orange juice, strained
1 tbsp (15 ml) white balsamic vinegar
1 tsp (5 ml) orange zest, cut into long, thin ribbons
1 tsp (5 ml) minced shallot
1 tbsp (15 ml) extra-virgin olive oil
salt and freshly ground black pepper, to taste
16 fresh asparagus spears, trimmed
1 medium-sized green zucchini
2 seedless oranges, peeled and segmented
Instructions
To make dressing, in a small saucepan, bring orange juice to a boil over mediumhigh heat. Cook until reduced by half, about 8 to 10 minutes. Transfer juice to a medium-sized bowl and cool completely. Add balsamic vinegar, zest and shallots. Drizzle olive oil, whisking continually until smooth. Season with salt and pepper, to taste. Refrigerate until chilled.
Fill a large bowl with water and ice cubes and set aside. To blanch asparagus, bring a medium-sized saucepan with water to a boil. Add kosher salt, then asparagus. When water returns to a boil, cook for 1 minute. Remove asparagus from saucepan and place in ice water. Cool completely in water, then pat spears dry. Refrigerate in a large dish until ready to serve.
Wash and dry zucchini. Using a vegetable peeler or mandoline, cut very thinly and add to asparagus in refrigerator.
When ready to serve salad, place 4 asparagus spears (whole or cut up) and some zucchini slices on each plate. Add orange segments and micro greens and drizzle with vinaigrette. Serve immediately.
Drink Pairings