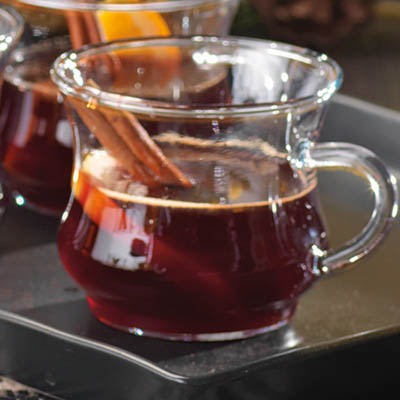 Ingredients
Serves 18 to 20
2 cups (500 ml) hot, strong black tea
½ cup (125 ml) freshly squeezed lemon juice (about 4 lemons)
¾ cup (175 ml) orange juice
2 bottles (2 x 750 ml) full-bodied red wine
lemon and orange slices, for garnish
Instructions
In a large pot, over medium-high heat, combine freshly brewed tea with sugar, cloves, cinnamon and star anise. Bring to a simmer and cook, stirring, until sugar dissolves.
Reduce heat to medium-low and add lemon and orange juice and continue to simmer for 15 minutes or so, then add red wine and rum, and cook for 5 more minutes, until heated through.
Strain out cloves and cinnamon stick and either ladle punch into mugs or pour into a heatproof punch bowl and let guests serve themselves. Serve hot with fresh lemon or orange slices.
Featuring