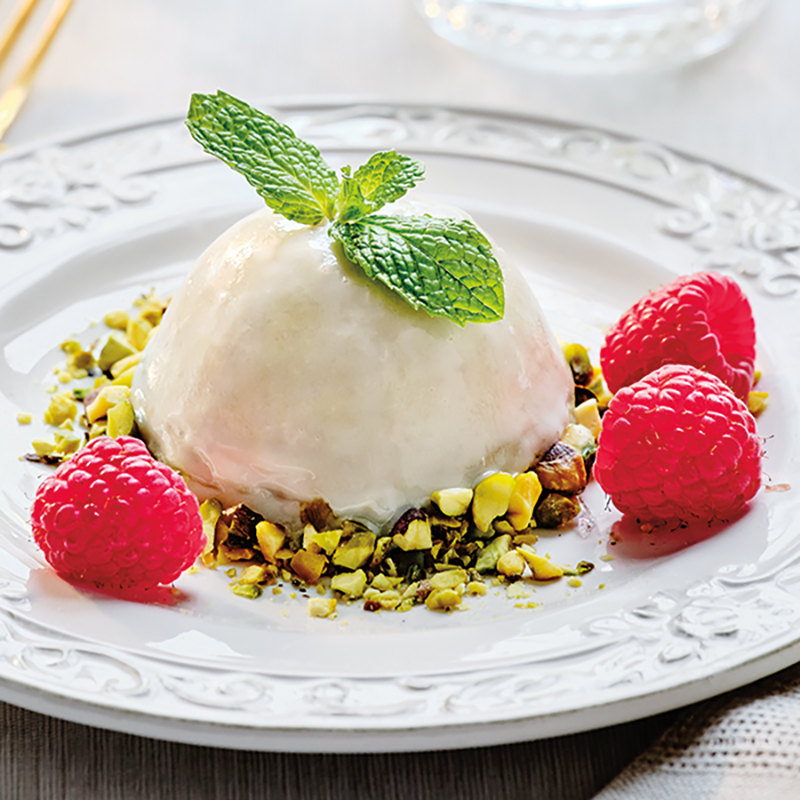 Avocado Lime Entremets
Handheld spring desserts to offer at your next picnic or garden party.
Ingredients
Serves 12
1 tbsp (15 ml) fresh lime juice
⅓ cup (75 ml) + 1¼ cups (310 ml) sugar, divided
5 sachets gelatin, divided
1 cup (250 ml) cream cheese, at room temperature
12 Lime Jellies, make ahead, recipe follows
2 tbsp (30 ml) + ⅔ cup (150 ml) water
⅔ cup (150 ml) condensed milk
2 tsp (10 ml) vanilla extract
12 oz (340 g) white chocolate, finely chopped
12 Almond Sables, make ahead, recipe follows
½ cup (125 ml) ground pistachios for garnish
raspberries and mint, for garnish
Instructions
Cut avocados in half and scoop out flesh. Discard seeds and skin.
In blender, mix avocados, lime juice, ⅓ cup (75 ml) sugar and salt until smooth.
In a small heatproof bowl, bloom 2 sachets of gelatin in warm water, about 10 minutes.
In a large bowl, beat cream cheese until no lumps remain. Add avocado mixture and mix well.
. Place bowl of bloomed gelatin in bowl of hot water until gelatin melts, about 2 minutes. Stir well until fully melted, then add to avocado mixture along with lime zest. Mix well until all ingredients are fully incorporated.
Pour mixture into twelve 2½-in (6.25 cm) domed silicone moulds, filling halfway up each dome. Add 1 Lime Jelly into each dome, flat-side facing up (if jellies are domed). Press lightly. Top with additional avocado mousse. Smooth surface with offset spatula and refrigerate for about 4 hours. Then freeze for at least another 2 hours before assembly.
To prepare a mirror glaze before assembly, in a small bowl, bloom 3 sachets of gelatin in 2 tbsp (30 ml) water, for about 10 minutes.
In a medium saucepan, bring remaining ⅔ cup (150 ml) water, 1¼ cups (310 ml) sugar, condensed milk and vanilla extract to a gentle simmer. Turn off heat and stir in bloomed gelatin. Mix thoroughly.
Place chopped white chocolate in a heatproof bowl. Pour hot condensed milk mixture through sieve over white chocolate and allow to melt, about 5 to 7 minutes.
Fully submerge immersion blender into melted white chocolate and blend until smooth without lifting blender while it is on. This avoids trapping air that can cause bubbles.
Strain mixture through a fine mesh sieve into large bowl and cover surface with plastic wrap. Cool mixture for about 15 to 25 minutes, until 92 F (33 C). It is ready to pour over avocado mousse dome at this point.
To assemble, place a wire rack over a baking sheet. Place Almond Sables on wire rack about 2-in (5 cm) apart. Invert frozen avocado mousse domes over sables.
Pour mirror glaze over mousse domes to fully coat, catching excess drips in baking sheet under wire rack. Refrigerate at least 1 hour. Discard remaining mirror glaze or store for future use. Can be refrigerated for up to 2 weeks. Heat gently and mix until it is liquid, then cool to 92 F (33 C) to use as glaze on fruits or other desserts, as desired.
Using a small offset spatula, gently transfer mousse domes to serving plates. Note: mousse domes will be sticky to touch.
Garnish base of each dome with ground pistachios and top with raspberries and mint, as desired.
Drink Pairings