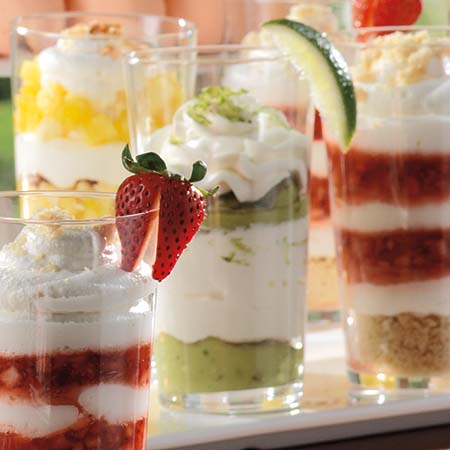 Ingredients
Serves 8
2 cups (500 ml) whipping cream
¾ cup (175 ml) sweetened condensed milk, chilled, divided
5 tbsp (75 ml) berry sugar, divided
1 tsp (5 ml) vanilla extract
2 large, ripe Haas avocados
3 tbsp (45 ml) lime juice
1 lime, cut into wedges, for garnish
Instructions
Place whipping cream in a large, chilled mixing bowl. With an electric mixer, whip cream until soft peaks form. Gradually beat in ½ cup (125 ml) chilled condensed milk until firm peaks form. Beat in 2 tbsp (30 ml) sugar and vanilla and transfer to a piping bag filled with a 1A piping tip. Refrigerate while preparing avocado purée.
Peel avocados and remove the pits. Coarsely chop and place in a blender or food processor along with ¼ cup (60 ml) remaining sweetened condensed milk and sugar. Pulse until blended, scraping down sides of bowl with a spatula. Add lime zest, reserving a little for garnish, and lime juice. Continue to pulse until very smooth. Transfer to a piping bag filled with a 1A piping tip.
To assemble, line up 8 x 6 oz (175 ml) glasses. Pipe about 3 tbsp (45 ml) avocado purée into the bottom of each glass. Pipe a layer of whipped cream on top of avocado making sure to evenly cover avocado to prevent it from discolouring. Add another layer of avocado and top with a thick layer of cream. Garnish with a little lime zest and a wedge of lime. Refrigerate until ready to serve. Best served the same day.
Drink Pairings