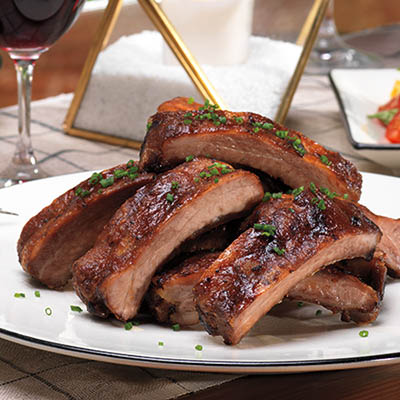 BABY BACK RIBS WITH HOMEMADE BARBECUE SAUCE
Ingredients
Serves 6
2 tsp (10 ml) kosher salt
½ tsp (2 ml) ground pepper
1 tbsp (15 ml) smoked paprika
¼ cup (60 ml) brown sugar
1 small yellow onion, chopped
2 tbsp (30 ml) Worcestershire sauce
½ cup (125 ml) apple cider vinegar
3 x 2 lbs (1 kg) racks baby back ribs
1 tbsp (15 ml) vegetable oil
1 tbsp (15 ml) kosher salt
1 tsp (5 ml) ground black pepper
Instructions
Combine BARBECUE SAUCE ingredients in a medium-sized, heavy-bottomed saucepan. Stir and bring to a boil, cover and reduce heat, simmer for 30 minutes, stirring often. Remove from heat and cool slightly. Transfer to food processor or blender and purée until smooth. Place in a sealed container and refrigerate until ready to use. Can be refrigerated for 1 week.
To make RIBS: Preheat oven to 300 F (150 C). Remove silverskin from underside of ribs and trim off any excess fat. Rub ribs with vegetable oil, salt and pepper, and wrap in a single layer of foil. Bake for 1 hour.
About 15 minutes before the end of baking, grease grill and preheat barbecue to 350 F (180 C).
Remove ribs from foil package and generously baste with Barbecue Sauce. Place on greased grill and reduce heat to 300 F (150 C). Barbecue ribs over low heat, constantly basting with Barbecue Sauce. Flip ribs several times during grilling until they are sticky and caramelized with sauce. Remove to a cutting board. Cut ribs between the bones into pieces and serve.
Drink Pairings