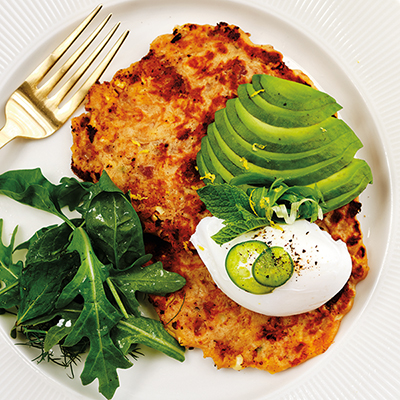 BACON, JALAPEÑO AND CORN FRITTERS
Ingredients
Serves 4
¾ cup (175 ml) flour, plus extra as needed
1 tsp (5 ml) baking powder
3 corn cobs, kernels only, or 1.5 cups (375 ml) canned corn
1 cup (250 ml) cooked, chopped bacon (about 4 to 5 strips)
½ jalapeño, seeded and minced, or to taste
1 cup (250 ml) shredded cheddar cheese
salt and pepper, to taste
¼ cup (60 ml) vegetable oil
1 avocado, sliced, to serve
½ cup (125 ml) chopped cilantro leaves, for garnish
Instructions
In a large bowl, stir together flour, paprika and baking powder. Set aside.
In a medium skillet over medium-high heat, heat olive oil. Add onion and sauté until soft and translucent, about 10 minutes. Add corn and cook for another 5 minutes. Set aside to cool.
In a large bowl, mix together corn mixture, bacon, jalapeño and cheese. Beat eggs together with milk then add along with flour to corn mixture. Season with salt and pepper and stir to form a thick batter.
In a large skillet over medium heat, heat vegetable oil. Spoon a small amount of batter into the hot oil. If batter holds together well, finish cooking fritter, then continue to next step. If it's too thin to flip easily, add a little more flour to batter, 1 tbsp (15 ml) at a time, and continue testing small spoonfuls until batter reaches a thicker, more flippable consistency.
Using a ½-cup (125 ml) measuring cup, scoop batter into skillet in batches of 2 or 3 fritters at a time. Gently press down batter with a wet spoon to form disks. Fry on each side for 3 to 5 minutes, or until golden brown and cooked through. Remove fritters to a paper towel-lined plate and repeat with remaining batter. If desired, place in oven at lowest setting, around 200 F (93 C), to keep warm.
Serve with poached eggs and avocado slices, or desired toppings and garnish with cilantro.
Drink Pairings