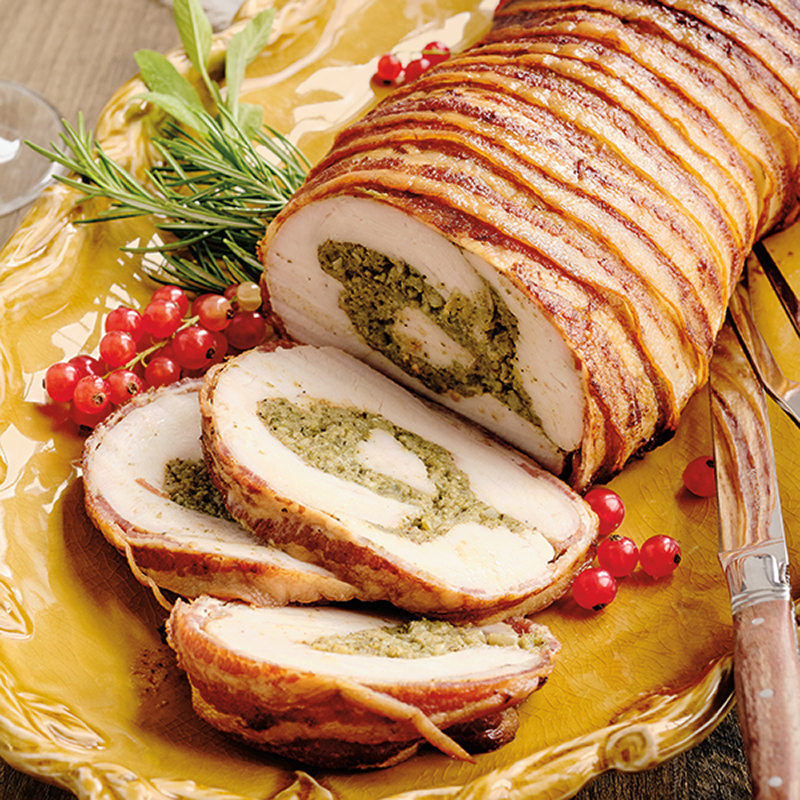 Bacon-Wrapped Turkey Roulade with Pesto
A delicious menu idea for your Thanksgiving table.
Ingredients
Serves 6-8
1 cup (250 ml) chopped shallots or yellow onions
½ cup (125 ml) chopped celery
½ cup (125 ml) panko bread crumbs
2 boneless, skinless turkey breasts
3 tbsp (45 ml) + 2 tbsp (30 ml) Seasoning Rub, make ahead, recipe follows, divided
½ cup (125 ml) butter, chilled and shredded
1½ lbs (750 g) bacon, thinly sliced
2 tsp (10 ml) freshly ground black pepper
1 tbsp (15 ml) brown sugar
1 tsp (5 ml) ground garlic
1 tsp (5 ml) ground ginger
Instructions
In a skillet over medium heat, heat olive oil until shimmering. Add shallots (or onions) and celery and cook until translucent, about 6 to 8 minutes. Add garlic and continue cooking for 1 minute. Remove from heat and cool for about 10 minutes.
Add pesto and panko bread crumbs. Mix well and allow to cool. Can be refrigerated for up to 2 days if not using right away. Bring to room temperature before using.
Place a clean piece of parchment paper approximately 15-in (38 cm) x 24-in (60 cm) on clean surface, long edge facing you.
Using a sharp knife, butterfly the turkey breast to relatively even thickness, making sure not to cut all the way through. Cover with plastic wrap. Using blunt side of a mallet, pound covered turkey to about 1-in (2.5 cm) to 1½-in (3.75 cm) thickness. Discard plastic wrap. Spread turkey breast in centre of parchment paper, slightly overlapping pieces, to form a rectangle, with its long edge facing parallel to you.
Generously sprinkle 3 tbsp (45 ml) of Seasoning Rub evenly across surface of turkey and gently rub it in. Evenly spread pesto filling in centre of butterflied turkey breast. Sprinkle with chilled shredded butter. Fold 1 edge of turkey breast over filling, then the other, to form a roll. Generously sprinkle remaining 2 tbsp (30 ml) Seasoning Rub over surface of roulade. Roll it tightly in parchment paper and twist ends to look like candy wrapper. Refrigerate overnight or at least 1 hour.
Place another clean piece of parchment paper approximately 15-in (38 cm) x 24-in (60 cm) on a clean surface, long edge facing you. Place 1 bacon rasher vertically along shorter side of parchment paper. Place another bacon rasher over edge of the first one. Repeat until all bacon is used and its width is the same as the length of the roulade.
Unwrap roulade and place across bacon layers. Fold each rasher of bacon tightly over to wrap around roulade. Fold parchment paper over to tightly wrap the roulade again. Refrigerate up to 1 day. When ready to use, unwrap roulade and place on large baking sheet lined with parchment paper, seam side down. Bring to room temperature before baking.
Preheat oven to 375 F (190 C).
Bake prepared roulade for about 1 hour or until centre of the turkey registers 155 F (68 C) on a cooking thermometer and bacon is well browned. If bacon looks cooked but turkey has not reached required internal temperature, cover with foil and continue baking until turkey is cooked, checking every 10 minutes. Remove from oven and loosely cover with foil for 30 minutes before serving.
Drink Pairings