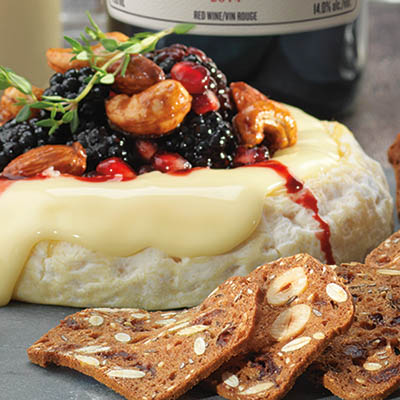 BAKED BRIE WITH BLACKBERRY POMEGRANATE COMPOTE AND SPICED NUTS
Ingredients
Serves 8
1 cup (250 ml) natural almonds and/or cashews
1½ tsp (7 ml) unsalted butter, melted
1½ tbsp (22 ml) light brown sugar
1 tbsp + 1 tsp (20 ml) clover honey, divided
¼ tsp (1 ml) ground cinnamon
¼ tsp (1 ml) smoked paprika
2 cups (500 ml) blackberries, divided, plus more for garnish
1 tbsp (15 ml) lemon juice
1 tsp (5 ml) vanilla extract
½ cup (125 ml) pomegranate seeds
2 x 7 oz (200 g) wheels or 1 x 16 oz (500 g) wheel of goat's brie
fresh thyme or rosemary leaves, for garnish
Instructions
Preheat oven to 350 F (180 C).
Place almonds and/or cashews on a parchment-lined baking tray, and toast in oven for 7 to 10 minutes.
Meanwhile, in a medium bowl, stir together butter, sugar, 1 tsp (5 ml) honey, cinnamon, salt, paprika and cayenne. Add hot toasted nuts and coat evenly in mixture. Spread coated nuts in a single layer on parchment-lined baking tray and place back in oven. Bake 12 more minutes, stirring every 4 minutes. Remove from oven and let cool at room temperature.
In a medium saucepan, stir together 1 cup (250 ml) blackberries, lemon juice, vanilla and remaining honey over medium-low heat. As berries begin to release their liquid, increase heat to medium and, stirring often, cook until mixture is reduced and liquid is syrupy, about 3 to 5 minutes. Remove from heat and allow to cool for 10 minutes. Gently fold in remaining blackberries and pomegranate seeds.
Carefully slice rind from top of each brie and discard. Place brie in a parchmentlined baking dish just large enough to hold brie, and bake until warm and melted, about 10 to 15 minutes. Transfer baking dish to a serving platter and top brie with blackberry pomegranate compote and candied nuts. Garnish with fresh blackberries and thyme or rosemary leaves, if desired. Enjoy warm with crackers.
Drink Pairings