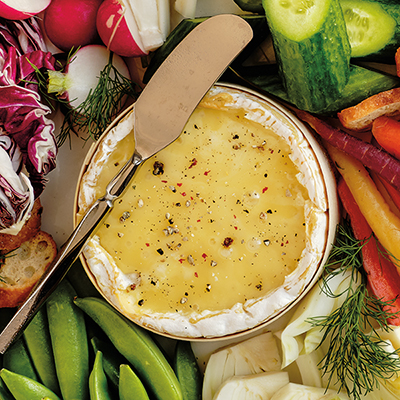 Baked Brie served with Crudités
Ingredients
Serves 4 to 6
1 small wheel brie (about 12 oz/340 g), preferably in a wooden box
crunchy raw vegetables, such as baby carrots, mini cucumbers, fennel, snap peas, radicchio, endive and radish, to serve
freshly cracked black pepper
packaged crostini or crackers, to serve
Instructions
Preheat oven to 350 F (180 C). Remove lid of brie box, keeping it in bottom part of wooden box. Remove any stickers on bottom of box and remove brie from any plastic packaging. If brie does not come in a wooden box, unwrap fully and transfer to an ovenproof dish that brie will fit into snugly. Place box or dish on a baking sheet and bake brie for 20 minutes, until soft throughout.
Meanwhile, wash and prepare vegetables to serve.
Remove brie from oven and carefully cut top off. Sprinkle with pepper and place in middle of a serving platter. Arrange vegetables and crostini around brie and serve.
Drink Pairings