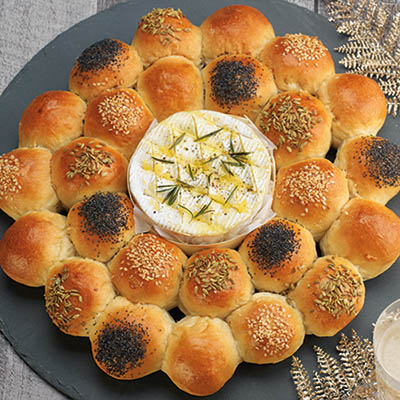 Ingredients
Serves 8 to 10 as an appetizer
26 oz (800 g) premade, store-bought pizza dough
7 oz (200 g) wheel of double cream brie
2 rosemary sprigs, divided
1 tbsp (15 ml) extra-virgin olive oil
freshly ground pepper, to taste
2 tbsp (30 ml) whole milk
1 tbsp (15 ml) poppy seeds
1 tbsp (15 ml) sesame seeds
1 tbsp (15 ml) fennel seeds
Instructions
Line a large baking sheet or pizza pan with parchment paper. Place round, ovenproof dish, large enough to hold brie wheel, in centre of prepared pan and set aside.
On a lightly floured work surface, divide pizza dough into 1 oz (30 g) pieces. Roll each piece of dough into a ball and arrange them in a circle around dish on prepared pan. Make sure to leave about ¼-in (0.5 cm) between each dough ball, as they will expand in oven. Cover with a kitchen towel and set aside in a warm place for 45 minutes.
Preheat oven to 375 F (190 C).
Once dough has proofed, place brie in ovenproof dish in centre of bread wreath. Using a paring knife, score a crosshatch pattern on top of brie. Rub surface with garlic and sprinkle with leaves of one sprig of rosemary. Top with a drizzle of oil and a good pinch of pepper.
In a small bowl, make an egg wash by whisking together egg and milk. Brush each dough ball with egg wash and sprinkle tops with poppy seeds, sesame seeds and/or fennel seeds (divide among tops as preferred). Bake until bread is golden brown and cheese is very soft, about 20 to 25 minutes. Transfer to a serving platter and garnish brie with remaining rosemary leaves and a drizzle of oil, if desired. Serve immediately.
Drink Pairings