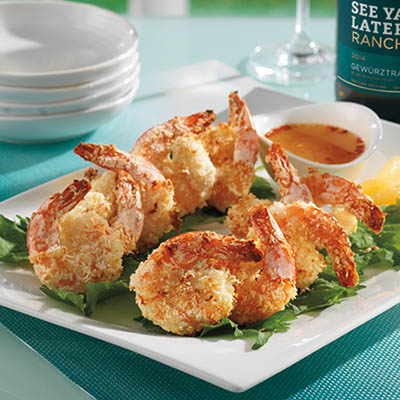 BAKED COCONUT PRAWNS WITH GRAPEFRUIT DIPPING SAUCE
Ingredients
Serves 4 to 6
2 tsp (10 ml) curry powder
pinch crushed red pepper flakes
2 tbsp (30 ml) liquid honey
4 tsp (20 ml) rice vinegar
2 Honeygold grapefruit, juice only
½ cup (125 ml) unsweetened flaked coconut
⅓ cup (90 ml) panko breadcrumbs
2 tbsp (30 ml) all-purpose flour
2 tbsp (30 ml) cornstarch
salt and freshly ground black pepper, to taste
1 lb (500 g) large prawns, tail-on, peeled and deveined
shiso leaves for garnish, optional
Instructions
Preheat oven to 450 F (220 C). Line a baking sheet with parchment paper or silicon mat and set aside.
To make DIPPING SAUCE: In a small saucepan, toast curry powder and red pepper flakes over medium heat until fragrant, about 1 minute. Add honey, vinegar and grapefruit juice. Bring to simmer, stirring occasionally, until sauce is heated through, about 1 to 2 minutes. Remove from heat and set aside to cool.
To make COCONUT PRAWNS: In a shallow bowl combine coconut, panko, flour, cornstarch, salt and freshly ground black pepper. Stir to blend.
In a medium-sized bowl, beat egg whites until slightly frothy. Add prawns to egg whites and toss to coat. Take each prawn from the egg whites, letting excess drip off, then coat in the coconut/ panko mixture, pressing to adhere. Place prawns on baking sheet in a single layer.
Bake prawns in preheated oven for 8 to 10 minutes or until golden on the outside and opaque in the centre.
Place prawns on serving platter with Dipping Sauce. Garnish with Shiso leaves. Serve hot or at room temperature.
Drink Pairings