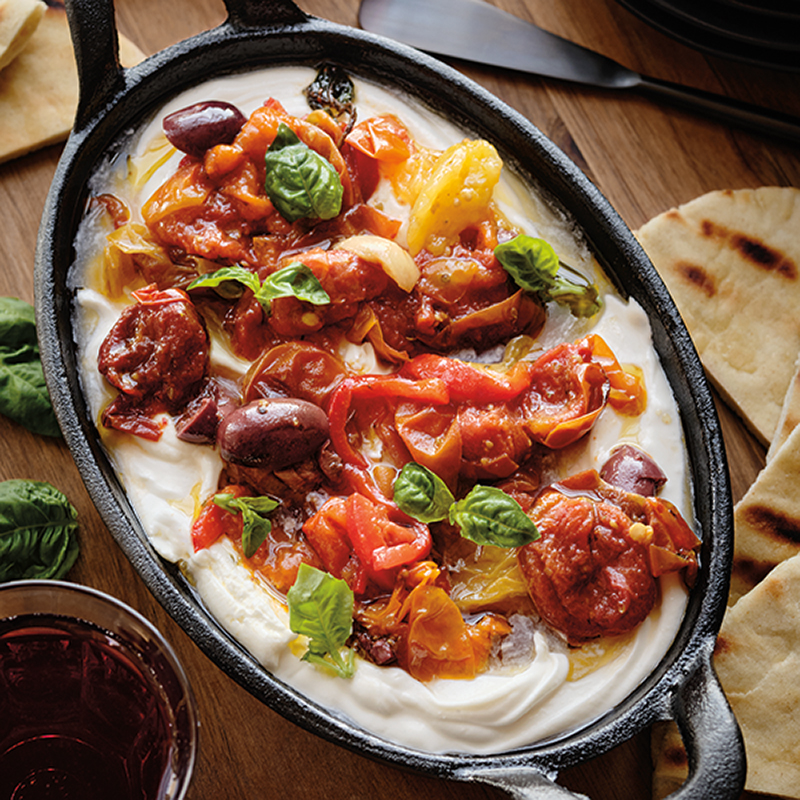 BAKED FETA DIP WITH ROASTED TOMATOES, PEPPERS & OLIVES
Perfect for the holidays, game day and beyond!
Ingredients
Serves 4 to 6
8 oz (250 g) cherry tomatoes
1 cup (250 ml) extra-virgin olive oil
¼ tsp (1 ml) ground black pepper
2 jarred roasted red peppers, thinly sliced
½ cup (125 ml) pitted, sliced Kalamata olives
2 cups (500 ml) Macedonian feta
2 tbsp (30 ml) whipping cream
basil leaves, for garnish
Instructions
Preheat oven to 350 F (180 C). Place tomatoes, olive oil, salt, pepper, garlic, thyme, rosemary and oregano in a small oven-safe saucepan. Cut a circle of parchment paper to fit in saucepan. Place parchment inside saucepan, pressing it down so the oil seeps up over the paper. Heat saucepan over medium-high heat until it starts to bubble, then place it in oven for 30 minutes. Remove and discard parchment, thyme, rosemary and oregano. Add roasted peppers and olives and set aside.
Using a blender, mix feta and cream until smooth. Transfer feta mix to a small baking dish and bake for 15 to 20 minutes, or until heated through. Spoon tomatoes, peppers and olives over top. Garnish with basil leaves.
Brush pita bread with olive oil from tomatoes and grill until warmed through. Cut into wedges and serve with feta dip.
Drink Pairings