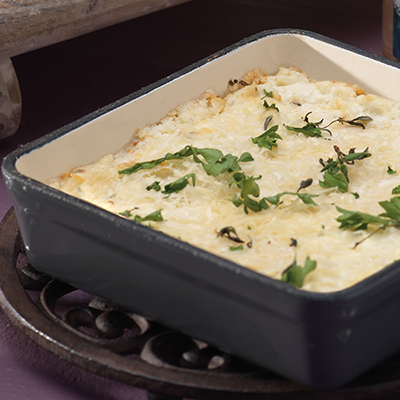 Ingredients
Serves 4
1 cup (250 ml) goat's cheese
½ cup (125 ml) cream cheese
½ cup (125 ml) grated Parmesan
1 tbsp (15 ml) extra-virgin olive oil
1 tsp (5 ml) Herbes de Provence
Instructions
Preheat oven to 350 F (180 C).
In a medium mixing bowl, add goat's cheese, cream cheese and Parmesan. Using an electric mixer, mix ingredients until thoroughly combined. Place in small ovenproof dish or small cast iron skillet and bake for 15 to 20 minutes, or until browned and bubbling.
In a small saucepan over medium heat, heat oil. Add garlic and herbs. Cook for 2 minutes. Remove from heat and add lemon zest.
When ready to serve, drizzle a little extra oil over goat's cheese.
Serve with bread or crackers.
Drink Pairings