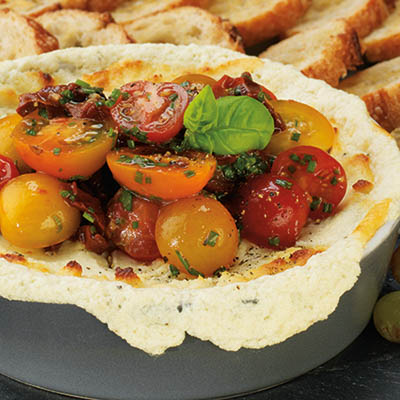 BAKED GOAT'S CHEESE WITH WARM TOMATO BRUSCHETTA
Ingredients
Serves 6
10 oz (300 g) log goat's cheese, at room temperature
½ cup (125 ml) cream cheese, at room temperature
¼ cup (60 ml) grated Parmesan
¼ cup (60 ml) extra-virgin olive oil, divided, plus extra for brushing baking dish
freshly ground pepper, to taste
10 oz (300 g) multi-coloured cherry tomatoes, halved or quartered, divided
2 tbsp (30 ml) drained and chopped sundried tomatoes in oil
2 tbsp (30 ml) finely chopped fresh chives
1 tbsp (15 ml) finely chopped fresh basil leaves
2 tsp (10 ml) balsamic vinegar
Instructions
Preheat oven to 400 F (200 C).
In a food processor, combine goat's cheese, cream cheese, Parmesan, 2 tbsp (30 ml) olive oil and a good pinch of pepper until smooth. Transfer mixture into a 4-cup (1 L) baking dish lightly brushed with oil. Bake until lightly browned on top and heated through, about 15 minutes.
Meanwhile, warm remaining olive oil in a frying pan over medium-high heat. Add half the cherry tomatoes and all the sundried tomatoes and garlic. Sauté until tomatoes start to release their liquid and garlic is fragrant, about 1 to 2 minutes. Transfer to a bowl and add remaining tomatoes, chives, basil and vinegar. Gently toss to combine.
To serve, remove dip from oven and spoon tomato bruschetta mixture over top. Garnish with additional basil or chives, if desired. Serve alongside toasted baguette slices, vegetables or crackers. Best enjoyed warm.
Drink Pairings