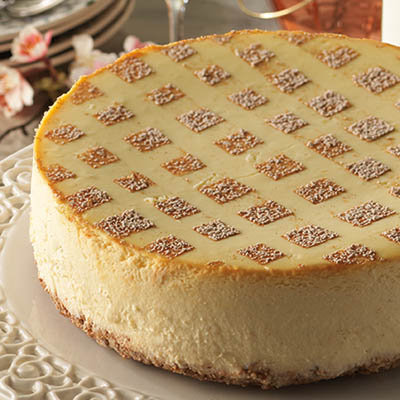 BAKED ITALIAN RICOTTA CINNAMON CHEESECAKE IN A WALNUT CRUST
Ingredients
Serves 12
2 x 400 g containers full-fat ricotta
1 cup (250 ml) granulated sugar
2 tbsp (30 ml) panko bread crumbs
2 x 8 oz (250 g) packages full-fat cream cheese, at room temperature, cubed
2 large eggs, at room temperature
2 tsp (10 ml) vanilla extract
⅛ tsp (0.5 ml) kosher salt
1½ cups (375 ml) coarsely ground walnuts
¼ cup (60 ml) granulated sugar
3 tbsp (45 ml) butter, melted
3 tbsp (45 ml) icing sugar, sifted
chopped walnuts, for garnish
Instructions
For FILLING: Place ricotta in a large, fine-meshed sieve set over a large bowl. Let drain for 30 minutes to 1 hour.
While ricotta drains, prepare crust. Preheat oven to 350 F (180 C). Spray sides and bottom of an 8-in (20 cm) springform pan with cooking spray. Line with parchment paper. In a food processor, pulse ground walnuts, sugar, cinnamon and salt to blend and transfer to a bowl. Stir in melted butter. Firmly press into bottom of prepared springform pan. Bake in oven for 10 minutes until light golden. Remove pan to a rack for crust to harden and cool.
Once ricotta has drained, place in a food processor and discard liquid. Pulse for 15 seconds. Scrape down sides of bowl and add sugar, panko bread crumbs and cream cheese. Make sure cream cheese is at room temperature, or it will not blend smoothly. Pulse to blend. Add eggs 1 at a time and continue to pulse. Add lemon zest and juice, vanilla and salt, and pulse to blend. When filling is smooth and creamy, transfer to cooled walnut crust and smooth top.
To prevent cheesecake from cracking during baking, wrap cheesecake pan in a large sheet of foil that extends halfway up the sides. Then place pan in a large roasting pan or lasagna dish. Fill roasting pan or dish with ½-in (1.25 cm) hot water. Gently place in preheated oven and bake for about 1¼ hours, or until cake is fairly firm when jiggled. Remove cheesecake from water bath and remove foil. Set on a rack to cool. Cake will settle slightly as it cools. Refrigerate uncovered, until cool, about 3 hours. Then cover and chill overnight.
To serve, combine icing sugar and cinnamon in a bowl and sift together to blend. Remove sides from cake pan and place cake on a serving platter. Sieve topping over cake in a decorative pattern and sprinkle with chopped walnuts, as desired. Cut into wedges and serve.
Drink Pairings