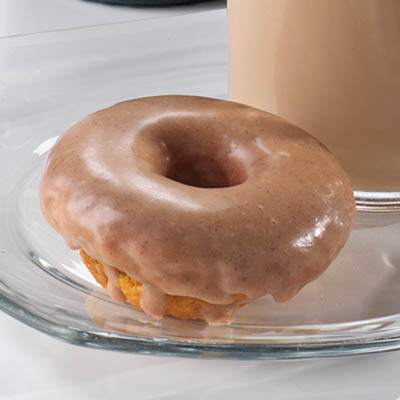 BAKED PUMPKIN SPICE CAKE DOUGHNUTS
Ingredients
Serves 12 doughnuts
2 cups (500 ml) icing sugar, sifted
1 tbsp (15 ml) maple syrup
2 cups (500 ml) all-purpose flour
4 tsp (20 ml) baking powder
2 tsp (10 ml) ground cinnamon
½ tsp (2 ml) each ground nutmeg and ground ginger
6 tbsp (90 ml) butter, softened
½ cup (125 ml) packed light brown sugar
2 tsp (10 ml) vanilla extract
1 cup (250 ml) canned pure pumpkin purée (not pumpkin pie filling)
Instructions
To make SPICE MAPLE GLAZE: To make glaze, sift together icing sugar and cinnamon into mixing bowl. Add milk and maple syrup and stir until smooth. Dip the top of each doughnut into glaze, invert onto wire racks to allow glaze to settle. Makes 1 cup (250 ml).
To make DOUGHNUTS: Preheat oven to 375 F (190 C). Grease a 6 x 1 cup doughnut pan.
In a large mixing bowl, sift together flour, baking powder, salt, cinnamon, nutmeg and ginger.
In another large mixing bowl, beat butter and brown sugar with an electric mixer until light and fluffy. Gradually beat in eggs, vanilla, milk and canned pumpkin. Fold in flour mixture until well combined.
Spoon batter into a large pastry bag fitted with a large plain tip. Pipe batter into pan and fill about two-thirds full. Place in preheated oven and bake for 15 minutes until risen, golden, and just firm to touch. Let cool for 5 minutes, then turn out onto wire rack to cool completely. Repeat with remaining dough. Dip into Spice Maple Glaze and serve. Best served the same day they are made.
Drink Pairings