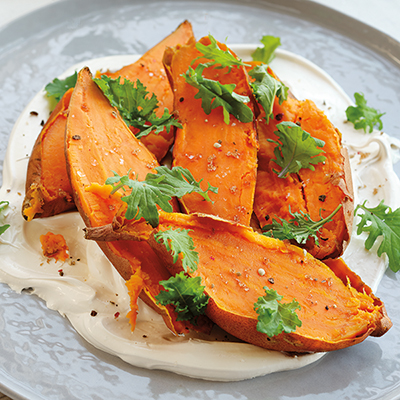 BAKED YAMS WITH BROWN SUGAR MERINGUE
Ingredients
Serves 4 to 6
1 tbsp (15 ml) butter, melted
1 tsp (5 ml) garlic powder
2 tsp (10 ml) salt, divided
½ cup (125 ml) brown sugar
2 tbsp (30 ml) granulated sugar
½ tsp (2.5 ml) cream of tartar
1 tsp (5 ml) coarse-flaked sea salt
1 tsp (5 ml) crushed multicoloured (or black) peppercorns
Instructions
Preheat oven to 375 F (190 C). Line a baking sheet with parchment or foil. Poke holes all over yams with a fork so they do not explode while baking. Toss yams in butter, garlic powder and 1 tsp (5 ml) salt. Bake on lined baking sheet until soft, about 30 to 45 minutes.
Meanwhile, make meringue. Fill a medium pot with about 2-in (5 cm) water and bring to a simmer over medium heat.
In a medium heatproof mixing bowl that will fit over pot, combine egg whites, sugars, remaining 1 tsp (5 ml) salt and cream of tartar. Place bowl over simmering water and stir egg whites constantly with a heatproof spatula until they reach 175 F (80 C), about 8 to 10 minutes.
Remove bowl from pot and whisk with an electric mixer until meringue is stiff and shiny, about 5 minutes.
Spread meringue on a serving platter, cut yams in half and arrange them over meringue. Garnish with flaked sea salt, arugula and peppercorns.
Drink Pairings